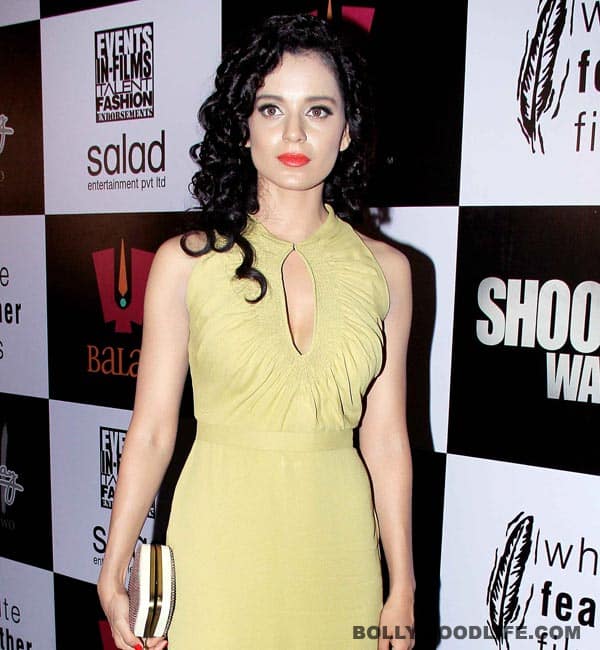 I Love New Year lady Kangna Ranaut is known for making it to the headlines more often for rubbing people the wrong way than for anything else! And this time's no exception. Director Rensil D'Silva is her latest victim…
It wouldn't be an exaggeration if we said Kangna Ranaut and controversy go hand in hand. Not long ago, her infamous fallout with producer Ekta Kapoor grabbed a lot of attention and now Kangs' unprofessional behaviour has miffed director Rensil D'Silva. We hear Kangna had got into the habit of turning up late on the sets of Rensil's next film, Ungli. Because of her tardiness, the rest of unit adjusted their timings so that the shoot wouldn't suffer. However, the Gangster babe went too far when she showed up four hours late on the sets recently. Reportedly, her co-stars Randeep Hooda and Emraan Hashmi were made to wait for her to arrive. As if that wasn't enough, Kangna started throwing tantrums about not wearing a mask – which she was supposed to do for a scene.
Rensil tried to save the situation, but Kangna refused to budge. The director finally lost his cool and came down heavily on Ms Ranaut for being unprofessional. After all the drama, Kangna was even heard saying that she felt wasted as an actress in the film. Hmmm… somebody sure needs to teach this lass how to be courteous, or else her Bollywood career could go downhill sooner rather than later!
Some time ago the actress took panga with Ekta Kapoor and decided to boycott the promotions of her film Shootout At Waadala, as she felt her co-stars were given more importance than her. Also, while shooting for Rascals, Kangna's starry tantrums resulted in her friendship with Ajay Devgn and Sanjay Dutt going kaput.
Looks like KR loves going all out just to be in the limelight. The moment Kangs is sidelined by her producers or directors, she turns into a drama queen and starts throwing around her weight just to make her presence felt. While she has proved her mettle as an actor, Kangna needs to do away with her habit of giving people a hard time off-screen. Why all the unnecessary fuss, Kangna, when your work speaks volumes for your caliber? Doesn't make sense to us!