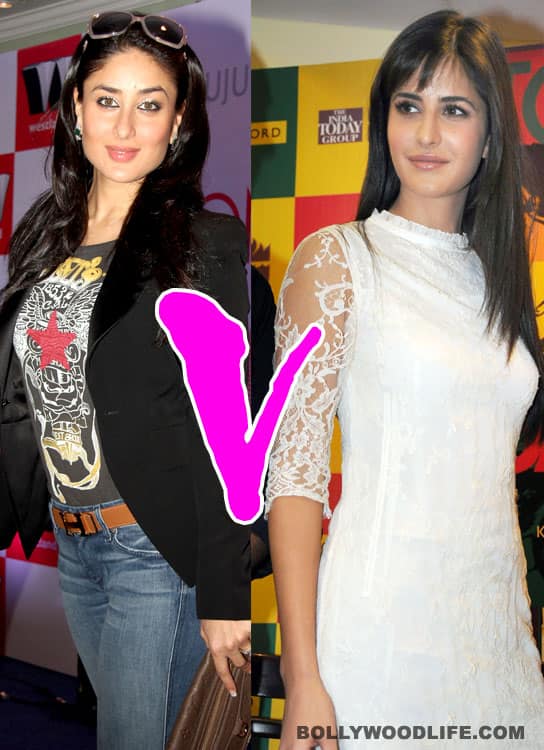 The leading lady of Bodyguard was unhappy that Katrina Kaif was roped in to add oomph to her film. So now Kareena has got herself a 'hot' romantic song with Salman Khan!
After Priyanka Chopra and Deepika Padukone, Kareena Kapoor has now developed insecurities about another contemporary actor, Katrina Kaif. We hear that the leading lady of Bodyguard sent out feelers to the makers of the Salman Khan-starrer for a 'hot' song featuring her and the Dabangg dude. Apparently, this happened after Salman danced to an item number with ex-girlfriend-but-still-a-friend Katrina. After the success of Sheila ki jawani, Kat has become hot property. And as per hearsay the Kapoor gal, who has a strong competitive spirit, wants to ensure she too shows off her hotness quotient in the film. At last the rivalry between the two ladies is out in the open! A few days ago, Salman and Kareena shot a hardcore Bollywood romantic rain song, picturised on the theme track Teri meri prem kahani. And word is that Kareena is looking super-sexy in this one.
It would not be wrong to say (even if Kareena doesn't like to hear it) that Kat is fast becoming the next choice for the 'reigning queen of Bollywood' tag. The Zindagi Na Milegi Dobara gal's consistent performance at the box office and her hardworking attitude has made her part of the A-list actors' coterie. And one of the current leading ladies of Bollywood, Kareena seems to have a lot more than just work on her plate (impending wedding to beau Saif Ali Khan) right now. Letting go of that coveted position is not an easy thing to do, especially in an industry where married female actors have great difficulty in landing plum roles. No wonder the queen bee is insecure of her successor. This is not the first time two actors cast in the same film have had jealousy pangs. Remember when Kangna Ranaut was worried if Priyanka Chopra would overshadow her in Madhur Bhandarkar's Fashion? Though they appeared friendly the two shared cold vibes on the sets. And there was a time when Karan Johar had great trouble dealing with friends-turned-foes Rani Mukerji and Preity Zinta while filming Kabhi Alvida Naa Kehna. At last here's some goss to reinstate the age-old belief that two female actors can never be comfortable around each other, forget being friends!