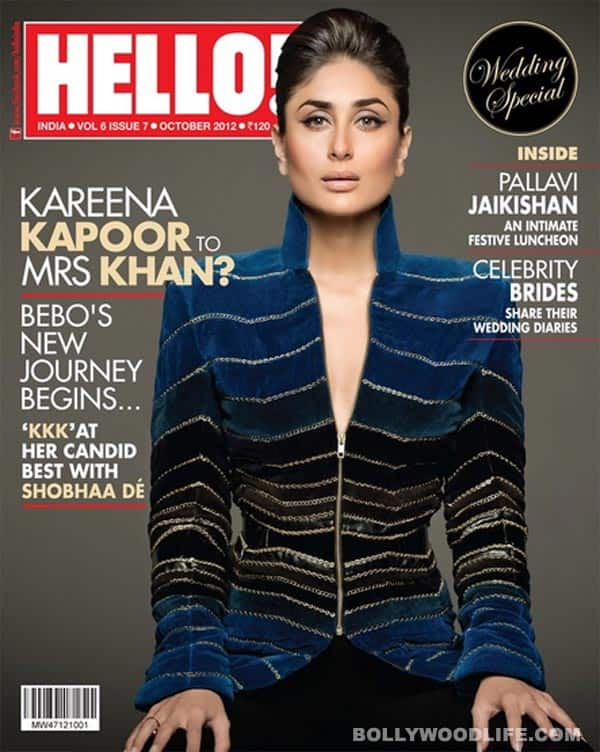 skip advertisement
The Heroine actor graces the covers of some high-profile glossies with her incredible charm and panache. Is Kareena Kapoor the ultimate 'It' girl of B-town?
Her film Heroine might not have seduced the audiences the way her stunning beauty always does, but that won't take away any credit Bebo deserves for working her way to the top. Men will continue to be slaves to the lady's impossible charm, and women will envy her for the unbelievable attention she commands wherever she goes. Recently, the gorgeous babe appeared on the covers of three leading magazines and presented us a visual treat like no other.
Kareena's sizzling presence on the cover of Hello! spells dominance, elegance and unattainable class. The suede jacket, the well-defined kohled eyes and the minimal make-up look does the trick for the frame. The stillness on Bebo's face and her static gaze lends the cover a touch of calm and an understated force. Bebo's outfit, hairdo and sculpted face create a beautiful symmetry. Clean, neat and powerful is how we define this cover.
And then we spotted Bebo on the cover of Maxim. The first thing that grabbed our attention immediately about this picture – after Kareena's sparkling face, of course – was the curve of her derriere. The translucent skirt accentuates the striking impact that Bebo's desirable bottom generally has on men. The red hot backdrop, Kareena's shiny mane and her naughty eyes are enough to arrest any gaze. The pose she holds and the prose of her body language create a killer cover. No wonder then that Maxim showers the title of the sexiest women of 2012 on Bebo.
We know that Kareena is the darling girl of the first family of Bollywood – the Kapoors. Her rich lineage is superbly captured in this cover shot of Notch. Kareena becomes a royal princess for this one. Though her outfit is a little overdone, the warm glow on Bebo's face and the styling more than make up for that glitch. The vintage feel of this frame is truly unmistakable!
Now going by these cover-shots we can easily conclude that Kareena will rule the world of fashion with her fine style – as indeed she rules our hearts with her oomph – for many years to come. We are sure you will agree with us on this. Right, BollywoodLifers?