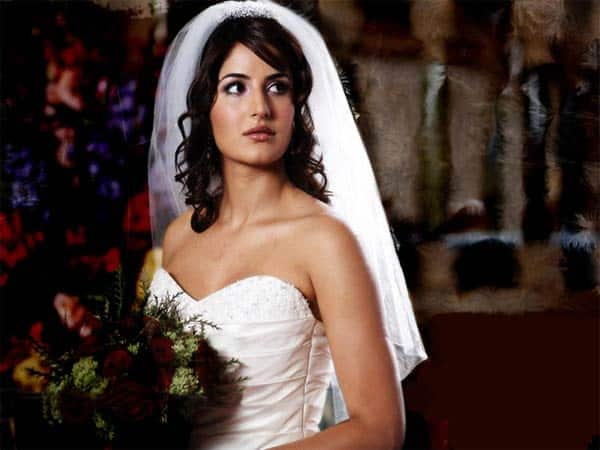 The relationship between the Dhoom:3 babe and her boyfriend Ranbir Kapoor has been under the scanner recently. But who is avoiding the M-word – Kat or RK Jr? Does Katrina believe that she will go the way of Kareena Kapoor Khan or Aishwarya Rai Bachchan if she becomes Mrs Kapoor? We wonder…
The marriage of Katrina Kaif and Ranbir Kapoor is the bone of contention in their relationship, according to rumours. While Kapoor Jr feels that his ladylove wants to focus on her career and marriage isn't on her priority list right now, reports suggest that he does not want to commit just yet. Buzz is that the Casanova RK wasn't ready to get hitched, while Kat wanted to become Mrs Kapoor – that's why Kat-Ranbir didn't fly back together after their New York vacation over New Year.
The Bang Bang heroine has a standard response for all questions on relationships and marriage – "I'm single till I get married." The actor in one of her recent interviews elaborated, "Being in love and being in a relationship are two different things. A relationship which is not fully committed to, or which has not yet reached a culmination is something I believe you should be discreet about. And I have always tried to be discreet about what's in my life."
We totally agree that Ms Kaif has been extremely guarded about her love life – she never really admitted to being Salman Khan's girlfriend, remember?  But is she afraid of marriage? Reports suggesting that Kat turned down Ranboo's marriage proposal as she wanted to focus on her Bollywood career have been doing the rounds. The fact that she has travelled such a long journey from Boom to Dhoom could make the Chikni Chameli gal believe that shaadi at this stage would jeopardise her career, hai na? Of course, she could be doing as much as she can in B-town before settling into wedded bliss and leaving the arclights behind…who knows!
On the other hand, the heroine who is very much a part of the race for No.1 could have developed cold feet after seeing the fading careers of Aishwarya Rai Bachchan and Kareena Kapoor Khan – even as reports suggest that the younger Mrs Bachchan is likely to make a comeback in Mani Ratnam's new film, she has been missing from the silver screen and seen only in endorsements. Her brand value in the Bollywood market has changed since she became Abhishek Bachchan's biwi and Aaradhya Bachchan's mother. While we approve of Aishwarya's clear choice of family over career, her product endorsements show that the perception of this once most sought after heroine has changed, but she still can win the Most Beautiful woman title, racing ahead of the hottest babes in B-town in the process.
Bebo too is facing an obvious shift in her professional profile. Despite being in a committed relationship with Saif Ali Khan she stayed the Numero Uno heroine, but her transformation from 'Miss' to 'Mrs' changed the equation – recently Bebo reportedly slashed her price for endorsing a tea brand. Inside gossip suggests that the once-favourite of Karan Johar's Dharma Productions camp is slowly being replaced by more junior heroines Deepika Padukone and Alia Bhatt, whose career graphs are climbing steeply. Shuddhi, KKK's film with Hrithik Roshan has been delayed further, while Bombay Samurai is on hold for the moment. So will the baby that both Kareena and Saif find no need to have right now be one way for the Begum to use her time more interestingly? And with four films and two cameos projected for the next few years, will work be able to take her back to her former place in Bollywood?
With examples of Kareena Kapoor Khan and Aishwarya Rai Bachchan before her, looks like Katrina is scared of becoming 'Mrs'!