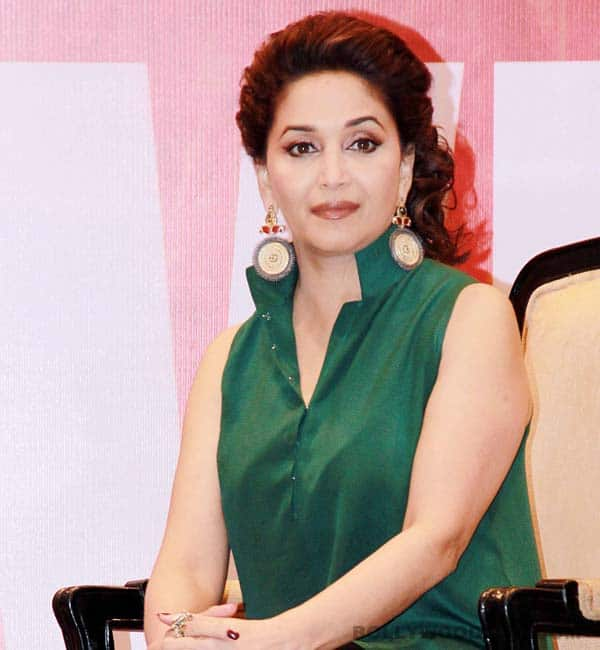 The dhak dhak girl made a comeback to Hindi films this year with Dedh Ishqiya and Gulaab Gang, neither of which worked at the box office. So why is she acting so pricey?
Madhuri Dixit-Nene is back in Bollywood. She has done two back to back films, Dedh Ishqiya and Gulaab Gang, but is rejecting all other movie scripts that come her way. Has she become choosy? Or is she acting too pricey? Is she waiting for something too special? We wonder..
Both her films this year did not do that well. Dedh Ishqiya released alongside Yaariyan, which took the lion's share of the viewership. Then again Gulaab Gang released alongside Queen and Total Siyapaa, and Kangana Ranaut's film came out as the winner with flying colours. Also Gulaab Gang had to be indefinitely postponed right before the release because of a court case filed by the original gang of the same name. Although later on it was sorted and the film was released on a short notice, but the court controversy hampered the movie's business big time.
Now we have heard that there are many filmmakers who are dying to work with Mads but she isn't too keen. Filmmakers like Zoya Akhtar, Raj Kumar Santoshi and Nikhil Advani had apparently offered her meaty roles in their upcoming films, but Ms Nene refused to work in any of them. However we don't know anything about these film's scripts but from the outside it seems that these films would have had a good market especially because they were backed by famous directors. So why is she saying no to all such films? We ask…
Our little birdies inform us that Madhuri is looking for only author backed roles, but is that the only reason? Wethinks that Madhuri is waiting to play roles which provide her with meatier roles in the films, and all filmmakers who are approaching her cannot just bank on her star power anymore. Thus, they are putting her along with an ensemble of actors, which wethinks Madhuri is unhappy with.
Mads has also started her own production house and maybe she is waiting for roles like Meryl Streep's from The Devil Wears Prada. Although its not surprising that she is picking films carefully because of her two back to back flops, it is also not unavoidable that directors and producers are unwilling to come to her with solo leads, as they are no longer sure of her star power. So doesn't that leave her acting career in doldrums? Wethinks! So what do you think peeps, is she acting too pricey and choosy?