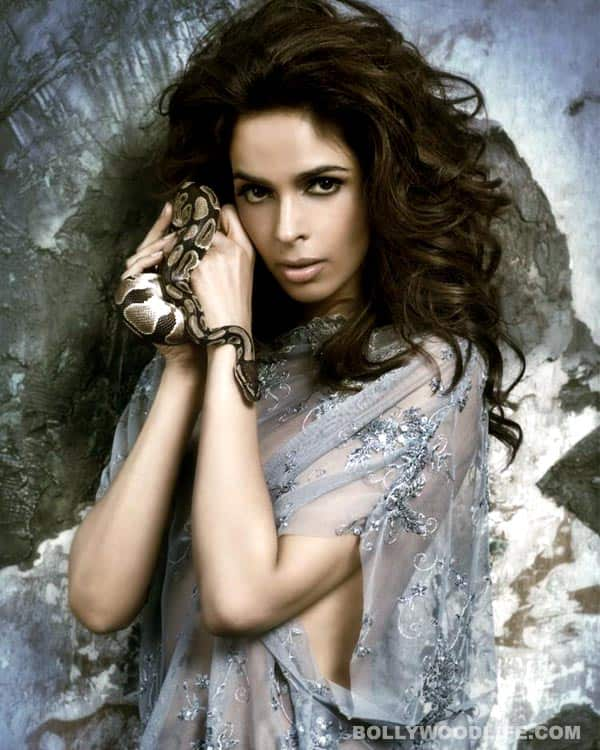 After the massive debacle of her ambitious film Hisss, we thought Mallika Sherawat will never pose with a snake ever again, but the hottie has proved us wrong!
Who looks more lethal in this pic? Is it the venomous python or is it Mallika Sherwat, who can slay a thousand men with that famous piercing gaze. The Murder babe posed with that slithering creature recently and also went on to call it her new accessory! This picture reminded us of Mallika's icchadhari naagin role in Jennifer Lynch's dud Hisss, where the babe was on a killing spree to avenge the death of her husband (snake).
Looks like Sherawat has been so fascinated by the role that she doesn't want to leave the snake, as yet. Or is it the trauma of Hiss' fate at the box office that's driving Mallika nuts. After all, the film was supposed to be a big hit (in Mallika's opinion) at BO, but it tanked miserably without a trace. We hope the sizzling siren will recover from the shock, if she is in any, real soon.
We think the hot Jalebi bai that Mallika is, she doesn't need a snake or a python or for that matter a Hollywood director to make it big. All she needs is a movie with a certain Hashmi to get back to where she truly belongs. After all, a kissing spree rather than a killing spree is what men want from this spicy babe. Hope the gal is listening!