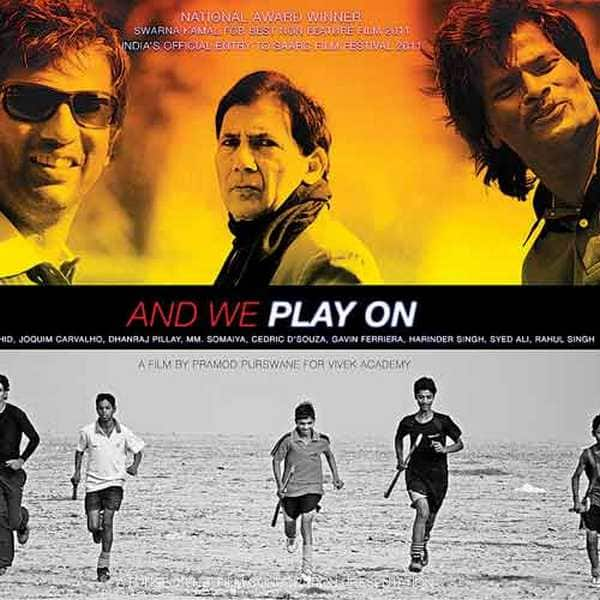 And We play On, Pramod Purswane's National Film Award-winning film on how hockey player Vivek Singh's battled cancer does not interest many
"Yuvraj Singh recovered from cancer. A documentary was made on him, all corporates wanted to buy it and it was showcased to millions on national television," says Rahul Singh. "Vivek Singh died of cancer. A documentary was made on him, it won the National Award, but no one is interested in releasing it."
More than a year after being awarded the Swarna Kamal for Best Non-Feature Film at the 2012 National Film Awards, And We play On – a documentary on former hockey Olympian Vivek Singh who succumbed to cancer in 2005 – has no takers for a theatrical release.
The difference, as Vivek's younger brother Rahul puts it, is not Yuvraj and Vivek's stories, but their sport. "You can sell anything if it's related to cricket, but if the same story involves a hockey player, no one bothers to hear."
The documentary written, directed and produced by Pramod Purswane – talks about Vivek's battle with cancer that eventually took his life at the age of 37. It also focusses on his family, which decided to set-up a hockey academy for young players in Varanasi, Vivek's hometown.
Called the Vivek Academy, it now has over 100 boys and girls training under Vivek's father Gaurishankar, with no support from the government. Rahul says it is for the academy, not for their materialistic pleasures, that the money would be used.
Shot with a budget of Rs 14 lakh, Purswane has only earned Rs 3 lakh from the film, which was the prize money of the National Award. Not a penny besides that. "We took the film to some national and international festivals and almost everyone who saw it was in tears. We have since gone to various corporates like Reliance, Universal and so on, but none were interested. "National Geographic offered us a sum of Rs 2 lakh, and said they will air it as many times they wish," Rahul, a former national hockey player, says with a tinge of sorrow.
"Look, ours is a country of heroes," adds Purswane. "It takes a Farhan Akhtar to sell Milkha Singh and people remember Bhagat Singh as Ajay Devgn, not the man himself. The problem with this was that it was hockey, not that it was a documentary. It is a very touching story but in the end it is hockey; no one watches it."
And yet while money was important, the main purpose of this documentary was to tell the story to as many youngsters as possible, irrespective of the means. So Rahul decided to send DVDs to various schools and colleges across Mumbai, but they too showed little interest. "It is almost as if anything free doesn't have value anymore," says Rahul.
But youngsters who have seen it say it is nothing short of inspirational. "There is a scene in which Vivek's mother has to literally run with him while he's playing to feed him when he was a kid. I want to be as dedicated to the game as that," says 21-year-old Amol Pal, a product of the Vivek Academy who now plays for Mumbai Customs.
Players who have played with Vivek believe that seeing his style of play (he is regarded as one of India's best centre-halves), a lot of kids would've starting playing hockey. "There are very few people like Vivek," Ramesh Pillay, a former national player who shared rooms with Vivek, says, "His way of speaking in Bhojpuri was so sweet that it would make the anyone feel happy. But we hockey players don't know anything about publicity and how to deal with the media. We just play and then step aside. That's our problem."
Rahul, meanwhile, has not given up hope. "My brother used to always say 'If I am able to inspire one more Vivek Singh, I will be happy'."
Loss of money notwithstanding, Purswane is now working on a film on Ramakant Achrekar, Sachin Tendulkar's coach. "I plan to club Vivek's movie with this, so that it is seen by more people. I'm sure I'll earn money from this one," he says.
Maybe, just maybe, cricket would help.
Photo and text courtesy: DNA
 Watch And We play On trailer: