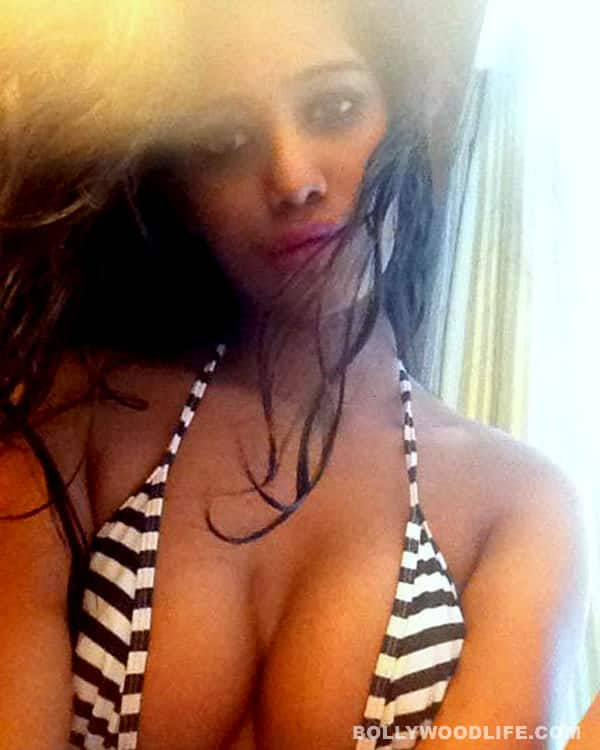 From her desperate appeal to scientists to locate the G-spot to calling Bipasha Basu a loser, it is amply clear that Ponam Pandey knows no inhibitions. With every passing day the controversial babe is getting more frantic and disgustingly annoying. And we know why….
She tried every trick in the book and even went beyond limits to catch eyeballs. So desperate was Poonam Pandey's attempt to stay in the headlines that even her secret admirers started squirming when they saw the gal showering in a bathtub with an ample amount of cleavage on display. If that was not enough, Poonam played Holi in her bare-dare avatar, spilling bhaang all over her bosom and smacking her lips suggestively. When all these desperate measures did not work for her, she turned her gaze to the 'dirty' game that had brought her into the limelight in the first place.
Everybody knows that Pandey flinched from her commitment of stripping naked in public when team India won the World Cup. Dhoni's men clinched the coveted title (Poonam's tall claim must have charged up the men in blue, no!) and soon after that, the 'lady' (and we use that term loosely) vanished into thin air.
So when Sachin Tendulkar scored his hundredth hundred not that long ago, Poonam got an opportunity to hog the limelight. In the name of celebrating Sachin's incredible feat, Poonam posted her nude pictures on a microblogging site. She went on to repeat the same shameless act when Shahrukh Khan's team Kolkata Knight Riders won the IPL-5. But alas, in spite of her willingness to strip on every joyous occasion, Poonam did not get any bhaav from anybody, never mind any film offers!
Meanwhile, the competition has started heating up. New (and much hotter) players have started emerging in the market, big time. Poonam's competitors Veena Malik, Sunny Leone and Sherlyn Chopra are racing way ahead of her. Veena has bagged a film or two, however shady, and has already made her illuminating presence felt on the silver screen. Sherlyn was invited by Playboy to be in the magazine's November issue. And Sunny, being Sunny, is making waves with her forthcoming erotic film Jism 2. So where does this leave Poonam? Absolutely nowhere!
And when nobody is looking at you, the only thing you can do is keep pushing. And that's what Poonam is up to. She recently tweeted pictures from her latest photoshoot which has her in a skimpy bikini. She's seen pouting and preening, with the camera focused sharply on her…err…chest. 'Tweethearts …. have u ever seen ne thing as HOT as this in INDIA,' Poonam tweeted.
We think Poonam is getting self-centric, even super-desperate. Somebody needs to tell her that India has been blessed with 'brighter talents' like Rakhi, Veena, Sherlyn, Mallika, Roslyn and now Sunny. People here are being exposed to much hotter stuff these days. It's high time for Poonam to rework her strategy, change her game plan and come up with something more innovative, imaginative, stimulating and original to stay in the headlines. Will Poonam Pandey rise to the challenge? Only time, and BollywoodLife, will tell!