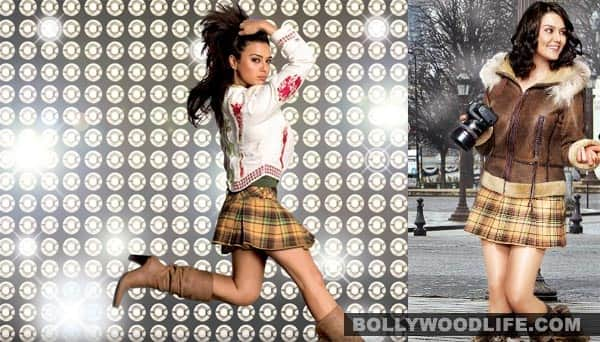 The Zinta babe is seen wearing the same checked skirt she wore in Jhoom Barabar Jhoom in her next movie, Ishkq in Paris
Unless the skirt bought good luck to Preity Zinta, we see absolutely no reason why she should be repeating the outfit in her new film Ishkq in Paris. Jhoom Barabar Jhoom was a huge dud and Preity's role in the movie was as boring and vacuous as Amitabh Bachchan's fleeting presence. And although IIP doesn't exactly look like an interesting watch to us, we hope it doesn't share the same fate as JBJ - now that would be an utter disgrace.
But when it comes to the
style, PZ
looks extremely funky in the skirt. In
 JBJ
 she teamed her skirt with plain suede boots, and in 
IIP 
she has pushed the envelope a bit and opted for tasseled dark brown boots, which make her look all wild and bohemian.
We are glad that Preity is back in action, but we are still wondering what made her opt for the same skirt again. Does she love the look? Or does she think the skirt has some sort of special powers? Well, we are sure PZ would be more than glad to skirt around this subject with great pleasure…