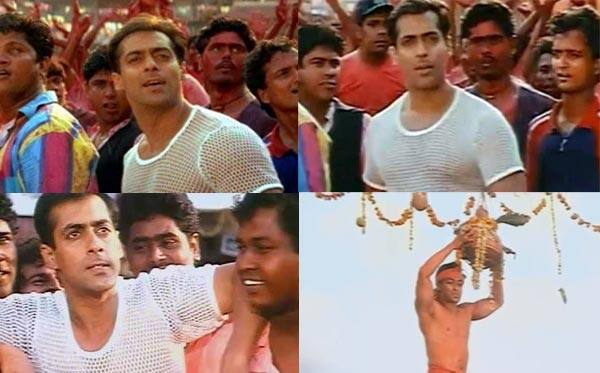 The two actors groove to the Janmashtami number from Hello Brother
Salman Khan is a tapori. Now before all you Salman fans tear us apart, let us clarify that we aren't saying so. It is Rani Mukerji who is calling him a tapori in this peppy song from their film Hello Brother.
The song is based on the festival of Janmashtami. Salman is at his dancing best minus the pink pants and white shirt while Rani on the other hand is looking great as always.
Now you know that we at BollywoodLife love to do wacky stuff. So we translated this peppy number in English and that too word by word. Read and have fun because as they say Govinda aala re.
P.S – Happy Janmashtami.
Chandi Ki Daal Par, Sone Ka Mor ,Sone Ka Mor
Taak Jhaak Taak, Kare Neeche Ka Chor
Chor Chor Chor, Bole Mor Mor Mor
Mere Dil Ka Hai Woh Chitchor
Chaandi Ki Daal Par…
Silver of branch on, golden of peacock, golden of peacock
Taak Jhaak Taak, does down of thief
Thief thief thief, said peacock peacock peacock
My heart of is he that thief
Silver of branch on
Mausam Bada Beimaan Hai
Dil Ye Mera Pareshaan Hai
Samjhaun Kaise, Yeh Dil Hai Deewana
Bas Mein Nahin Dil Ka, Ye Aana Jaana
Hoti Hai Zaalim, Yeh Dil Ki Lagi
Ja Re Ja Re Deewane Ja, Aisi Baat Na Bada
Aya Hai Lekar, Yeh Toli Kahin Se
Kissa Suna Hoga Tumne Kisise
Choron Ko Bhi Padh Jaate Hain Mor
Chaandi Ki Daal Par…
Weather big misleading is
Heart this mine worry is
Explain how, this heart is crazy
Control in no heart of, this come go
It is cruel, this heart of hurt
Go go crazy go, such talk dont make big
Come is bring, this procession somewhere from
Case heard might you from someone
Thief also get peacock
Silver of branch on…