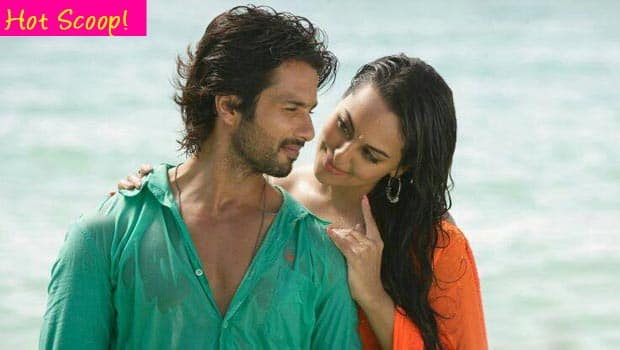 We give you the scoop on why Sasha is playing down his present relationship
Shahid Kapoor has learnt it the hard way. The actor who was in a very public relationship with Kareena Kapoor, mended his ways and decided to keep his love affairs quiet pretty early on in life! After his love story with Bebo ended, Shahid was linked to numerous girls from Vidya Balan, Sania Mirza, Bipasha Basu to his current interest Sonakshi Sinha. However, unlike his contemporaries Ranbir Kapoor and Ranveer Singh, the Haider actor is in no mood to wear his heart on his sleeve….We give you three reasons why Shahid is refusing to commit to Sonakshi in public!
Once bitten twice shy!
He's learnt how to play around and not get caught! Meaning, Shahid has always spoken in his interviews post break up how he believes in love but would like to keep it private. Whether it was the MMS clip, or the constant barrage of questions coming his way, Kapoor has realised its better to hide and play than show and get caught!
Sonakshi doesn't approve
When you date Sonakshi Sinha you realise, there is a relationship embargo that comes with her! Sona has always been very guarded and private about her personal life. Given the fact that her father Shatrughan Sinha is a political heavyweight and mom Poonam is quite protective about her daughter, we understand why she doesn't want Shahid holding her hand and attend filmi parties.
Work before women
Despite being popular with the masses and having a huge fan base, Shahid has yet to deliver that one big hit that will solidify his position as a force to reckon with. Haider might be that big ticket ? Even though R…Rajkumar was a moderate success, Shahid is consistently making efforts to pick the right films and show his star power. So he might want to wait and talk about romance until he gives that one smash hit!