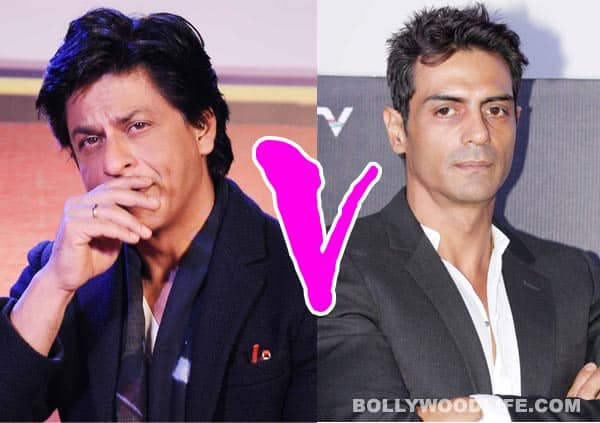 The RA.One villain will celebrate his 40th birthday in Marrakech. Though the much-talked about party will be attended by many A-list stars, Arjun's ex-BFF Shahrukh Khan is not even invited!
Arjun Rampal will be celebrating his 40th birthday on November 26. The model-turned-actor has a surprise (uh-oh, he knows already!) party waiting for him in Marrakech, thanks to wifey Mehr Jessia. But more than the starry birthday bash in the Moroccan city, what has caught our immediate attention is the fact that Shahrukh Khan is not on the guest list, even though his biwi Gauri Khan is!
A little birdie tells us that SRK is trying to make it seem as if all is well between him and Arjun. It may also appear that King Khan's choc-a-bloc calendar is the reason for his absence at the do. But we learn that though the superstar Khan is scheduled to visit the Marrakech Film Festival and be hosted by royalty, he has decided to give Rampal's birthday a miss.
SRK and Arjun's once-friendly relationship reportedly went sour when Arjun tried to advise Shahrukh to stay away from Priyanka Chopra, sometime last year when the Don 2 stars were rumoured to have become rather too close for marital comfort. Mrs Khan even shared her concern with Arjun's wife Mehr, who then requested her hubby Arjun to warn SRK about the possible consequences of his closeness to Piggy Chops. This episode, we hear, did not go down well with the King Khan. The cracks in the relationship started showing when Arjun and Shahrukh started avoiding each other at various events.
And now we know that though Mehr has invited her best friend Gauri for Arjun's birthday celebrations, SRK is not on the list! All eyes will now be glued to who makes it to Arjun's party and who chooses to give it a miss. Friends of the two stars will now be divided by loyalty. Our buddy the birdie also informs us that though Hrithik Roshan and Sussanne are attending the birthday do, Abhishek Bachchan and Aishwarya Rai Bachchan have decided to stay away from the controversial affair.
We think the only person who can step in to this rather awkward situation and play mediator to get the two warring stars together is Karan Johar. KJo, in our opinion, should invite the two actors on his famous talk show and get the issue resolved. After all, Rampal needs SRK to get his much-deserving movie roles and awards, no?