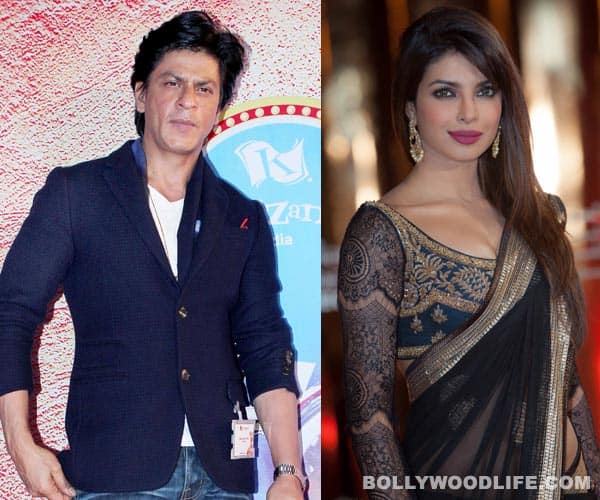 SRK keen to cast his Don 2 co-star for Farah Khan's Happy New Year despite opposition from friends and family
Barely a few months back, when the news of Shahrukh Khan and Priyanka Chopra's special 'friendship' started doing the rounds, Shahrukh dumped his 'good friend' so fast as if it were going out of style! Under pressure from his wife Gauri Khan, a prominent member of the filmi wives club, the superstar distanced himself from his Don 2 co-star, and sort of ousted her from his camp. Even Karan Johar, who is thick with Shahrukh's wife, informed friends and well wishers about his unhappiness with Piggy Chops. There was also Twinkle Khanna who had famously warned her husband Akshay Kumar from doing any films with Priyanka after rumours surfaced about an alleged affair between PeeCee and Akshay Kumar. And it seems like Gauri followed Twinkle's example and forbade Shahrukh from doing films with Priyanka.
Well, now it seems that SRK is finally being the man of the house, and taking a stand towards his relationship with Priyanka Chopra, against the wishes of his wife and friends. And for Farah Khan's much awaited film Happy New Year, Shahrukh has apparently approached Priyanka for a role opposite him. And this at a time, when Priyanka too, being quite smart and sassy, is trying to make in-roads into Salman Khan's camp amidst reports of a growing friendship between the two.
Now we're surely glad that Shahrukh Khan has manned up at the right time and approached Priyanka, yet his reasons are not clear. Apparently, it is said that for Happy New Year, Shahrukh along with producer Farah Khan, are having a tough time getting the top A-list actors since all the leading ladies, namely Deepika Padukone, Kareena Kapoor and Katrina Kaif have date issues. Katrina, who SRK badly needed, is paying him no heed since she shares a great rapport with Salman who is known to be SRK's mortal enemy of sorts.
Bollywood sure is a strange world, and the rules it works by are stranger. Whatever be the case, we will always be more than happy when folks kiss and make-up. Well, hug and make-up in this case is safer wethinks. Wink wink!