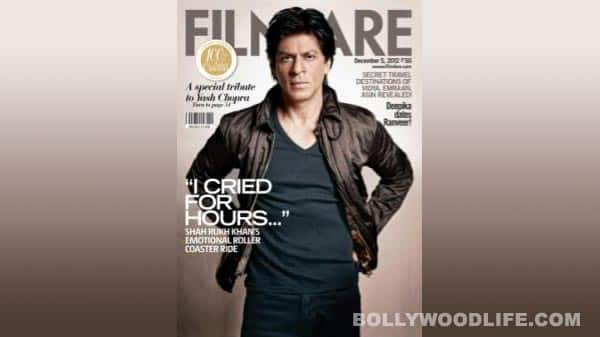 We spotted the Jab Tak Hai Jaan superstar on the cover of Filmfare magazine and we were aghast to see Shahrukh Khan in his most lacklustre cover appearance ever
Shahrukh Khan is a force of nature. The livewire actor is always bustling with incredible energy that baffles one and all. Over the years SRK has adorned the covers of many glossies, but never before have we seen a cover picture that captured SRK in a dreary and an uninteresting mood such as this! The 47-year-old is already receiving stinging comments for portraying a haggard-looking loverboy opposite much younger Katrina Kaif (and Anushka Sharma) in Yash Chopra's recent release Jab Tak Hai Jaan. And this cover picture, much like the scene from JTHJ where the King Khan plants an awkward kiss on the elegant pout of a far more youthful Kat, turned our stomachs right over!
Here's Shahrukh, who seems to have come to the shoot straight from his king-size bed, his eyes bleary and face crumpled. There's a desperate attempt to make the superstar look casual, relax and chic, but the attempt has gone dreadfully wrong. The V-necked black tee and the dark denims make for an awful match. And if that's not enough, the bronze jacket and the-old-man-supporting-his-aching-back pose make the faux pas even more glaring. "I cried for hours…" reads the tagline.
Well, after looking at this cover, so did we!