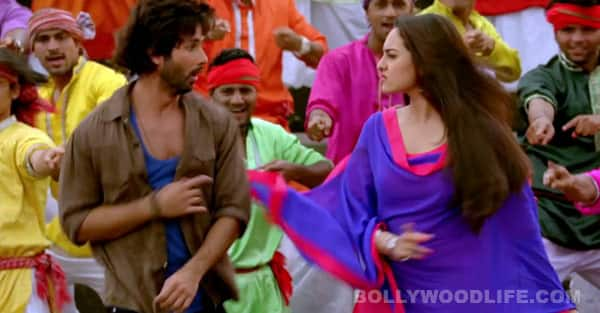 Well, the Dabangg babe is making fun of her R…Rajkumar co-star only in their film and not in real
Shahid Kapoor and Sonakshi Sinha's forthcoming film R…Rajkumar is just around the corner. And while we are hooked to the peppy music of Prabhu Dheva's film, the dialogues are entertaining too. Especially the conversation between Sona and the Kapoor lad is super funny. Hence we decided why not make it funnier by literally translating them in English word-to-word. So read the angrezi version and have fun.
Sonakshi – Aapne aap ko dekha hai kabhi, Teri toh height bhi nahi milti mujhse
Yourself you seen sometime, your height no match me
Shahid – Toh tu sirf Aamitabh Bachchan se pyaar karegi
Then you only Amitabh Bachchan love doing
Shahid – Tera wajan dekha hai, maine kuch bola, main bhi toh adjust kar raha hoon na
Your weight seen, I something said, I also adjust doing
Wethinks both the version are funny but you tell us which one tickled your funny bone or not?