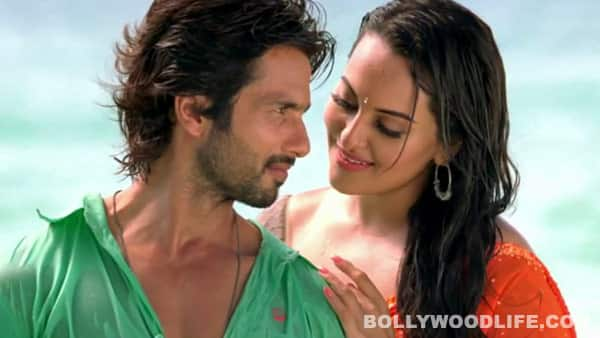 As per the latest buzz, Sasha and Sona's last film together will be released again
After raking in Rs 78.30 crore, Sonakshi Sinha and Shahid Kapoor's R…Rajkumar has proved it yet again, that they are a hit with the masses. Why do we say so? Well apparently, R…Rajkumar has been re-released in Hyderabad owing to public demand.
Koffee With Karan 4: Was Shahid Kapoor not supposed to appear with Sonakshi Sinha on the show?
Sonakshi herself was quite excited when she got to know about it through Twitter. The Dabangg actor tweeted, "Hahaha how cool is this?? Hey hey hey Romeo ki jai!!!!" She even tweeted a photograph of the poster to make people believe that it's true.
We don't blame Sona for being so excited about the film. After all, this is a sone pe suhaaga situation, no? First get to work with your alleged boyfriend, then rejoice over the fact that people like your chemistry with him. Wink wink! Although we don't quite understand what's there in the film to like about – Sona's biceps or Sasha's dancing…ahem figure?