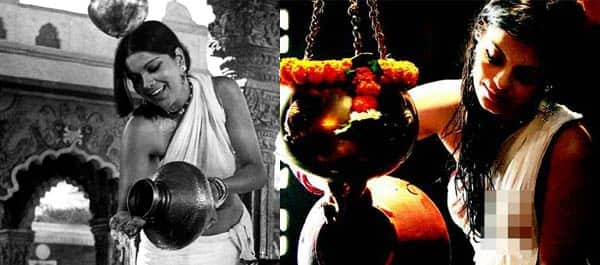 The film will bring Himesh Reshammiya and Yo Yo Honey Singh together for the first time
The Xpose is an upcoming film which introduces newcomer Zara Afroz and Sonali Raut. The film will also have Himmesh Reshammiya nd Yo Yo Honey Singh play lead roles. If we recall we had informed you about the story line of the film, which was leaked apparently by some unknown source. Now our khabroos have informed us that Sonali Raut is going to feature in a song which is very similar to the Bhor bhaye panghat pe from Raj Kapoor's Satyam Shivam Sundaram.
Director Ananth Narayan Mahadevan admits that there's a song sequence which is a tribute to Raj Kapoor's Satyam Shivam Sundaram with Sonali in a white half-sari which is almost a replica of Zeenat's iconic get-up. "We created a set of a temple in ruins at Filmistan Studio. There is no roof and hence the rain streams in, soaking Zara to the skin as she pours water over the Shivling while singing the title track of a film being shot within the film. Ujjwal, Nirmal, Sheetal is a classical number composed by Himesh but on the lines of Satyam Shivam Sundaram's Bhor bhaye panghat pe," elaborates Ananth while talking to a leading daily.
He also informed the daily that they spent weeks trying to source the exact material for the saree. Then they waited for Sonali to overcome her personal inhibitions. "We'd shown her the original picture and pointed out that this was her opportunity to recreate Raj Kapoor and Zeenat's iconic scene in her very first film. Initially, Sonali came out in a body suit but then went back and returned without it. The sequence has been shot very aesthetically," asserts Ananth.
Besides Ujjwal Sheetal Nirmal, another film is being shot within the film, Reena Mera Naam, which is also a sort of a tribute to Dev Anand's iconic film Johnny Mera Naam  and Raj Kapoor's Mera Naam Joker. The film, The Xpose, is laden with many several colourful characters and many of whom may seem familiar from yesteryear movies.