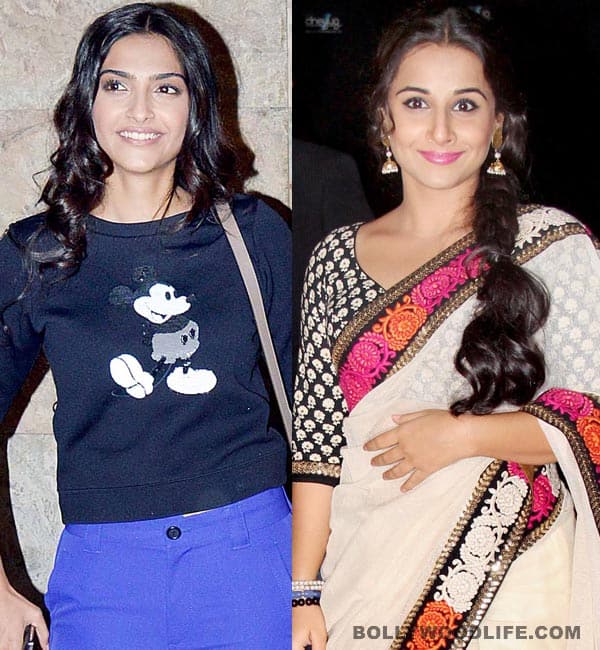 The style queen of B-town recently gave the Kahaani lady some unsolicited suggestions on what she should wear at the 66th Cannes International Film Festival. Will Vidya do what Sonam says?
Vidya  Balan might take serious umbrage after discovering that Sonam Kapoor – the style diva – publicly spoke about what she thinks The Dirty Picture star should wear at the 66th Cannes International Film Festival. SK is one smart mouth, so if she can call Shobhaa De a fossil and rate Ranbir Kapoor lowest on the sex appeal meter, we shouldn't be surprised that the gal has the audacity to think that VB – the actor who's way senior to her, age and experience-wise – needs fashion gyaan. C'mon, isn't that what Sabyasachi Mukherjee is there for? So while Sonam has stated that Balan would look like a million bucks if she wore a chiffon saree and teamed it with pearls, we can't stop ourselves smirking. Won't a body-hugging, flowy fabric like chiffon make Vids look like something that resembles a round basket with a whale in it?
SK also thinks that Balan should go for light, airy fabrics, since it's going to super hot at Cannes this time of year. Now we doubt that VB – the woman who has truckloads of self respect – is going to pay heed to any of that advice. So we can already imagine Balan with sweat patches, all slick with heat, taking great delight in watching movies rather than trying to make an impression on the red carpet in her Kanjeevaram's rejigged by Sabya.
Whatever she does decide to wear we will know eventually, but we suggest that the next time Sonam gives a suggestion, she keeps VB's body frame in mind. Chiffon draped on a well curved bod is like a shoddy house adorned with high-end chairs…no?