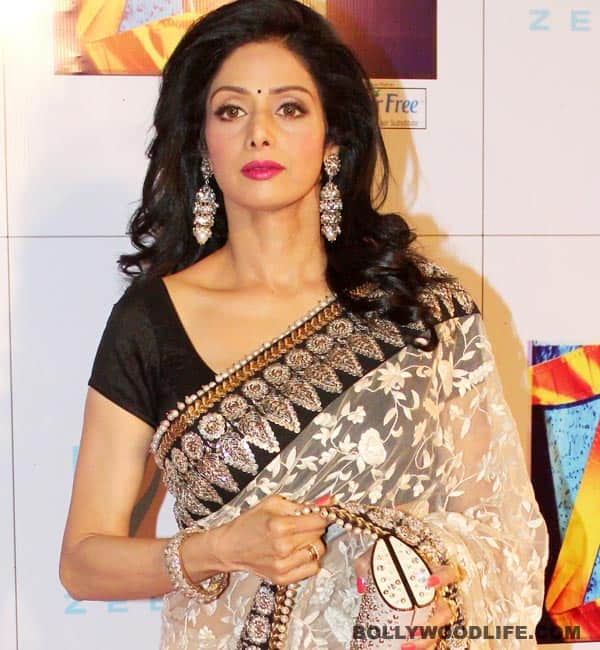 We thought the English Vinglish star would carry off all the best actor trophies. But nothing has been coming her way. How come?
When we heard about Sridevi making a comeback in a small film called English Vinglish by a new director called Gauri Shinde, we felt a mix of emotions – joy that one of the most expressive actors in contemporary cinema was going to be working again and nervousness that her movie could suffer the same fate as others, be it Aaja Nachle (Madhuri Dixit-Nene's return to the big screen) or Karisma Kapoor's Dangerous Ishhq – those kinda came and went in a super-fast whoosh! But since we at BollywoodLife are Sri fans, we wondered, gently worried and headed to the salon for a nail spa to fix bitten cuticles. And then English Vinglish released, everyone loved it and Sridevi was ba-a-a-ack!
Okay, great, so we have the lovely lady, looking better than ever before, though obviously not in the same song-and-dance class as before, at work again, not hiding her age, her growing-up daughters or her need to have portly husband Boney Kapoor holding her pretty hand right through. And she is reading new scripts, planning new films and throwing out hints about working with patidev again sooner rather than later.
But there is something bothering us hugely. Sridevi has been nominated a-plenty for all the top awards, as Best Actor. But so far, she has gone none of them. The Colors Screen Awards trophy went to Vidya Balan, the Zenith (Zee Cine Awards) went to Priyanka Chopra and the Filmfare black lady went to…guess who! Vidya Balan.
How come our lady Sridevi did not take home anything? Is there a bias? Did someone exert influence? Or is there just so much talent up there in the starry firmament that Sri lost out to quality rather than politics? We would go with that last story – after all, with stars like Priyanka (Barfi!), Vidya (Kahaani), Katrina Kaif (Ek Tha Tiger) and Deepika Padukone (Cocktail), the competition has been exceptionally tough. And Sri, as much as we like the way she does what she does, lost in a fair fight this time around. Don't you agree?
MUST READ: Why are Shahid Kapoor, Kareena Kapoor and Kajol missing from all the award functions this year?