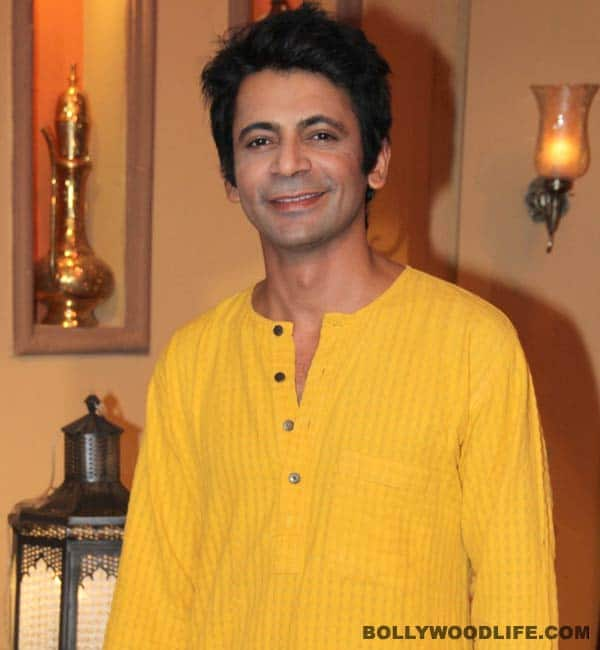 Yogen Shah
There is no bad blood between the Mad in India actor and Kapil – or so we hear – but is that the truth?
Sunil Grover launched his new show Mad in India (MID) on Star Plus today with much fanfare. The underrated actor is spot on with his comic timing, especially when he has to play a woman onscreen. We've seen him do the woman act as Gutthi in Comedy Nights with Kapil (CNWK) before, and now he is producing his own show on Star Plus. Incidentally, he has rechristened himself as Chutki for MID.
However, as his fans, we just can't seem to get over Gutthi. So during the press meet, someone queried the actor about the controversy with Colors channel and co-actor Kapil, but contrary to what we had expected, the comedian simply refused to even acknowledge the question. The comedian didn't just ignore questions related to CNWK, he even brushed off the journalists who asked the questions!
Hold on, the story doesn't end there! Apparently, the media repeatedly questioned the actor about Kapil, Ali Asgar and the other actors from CNWK, but Sunil refused to answer any and every question related to the rival (or not?) show. He apparently, then informed the channel's PRs that he will not respond to any controversial questions and will definitely not talk about Kapil on his show. The actor even walked out of interviews as soon as the reporters even attempted to broach Kapil's subject.
If you ask us, whenever any celebrity refrains from talking about a certain subject or person they've had an equation with, there is something fishy, no?
We asked Shweta Tiwari – also a part of Sunil's Mad in India – about the 'so-called controversy' and the actor said, "There is no controversy or tussle between Sunil and Kapil. Both are brilliant actors. It's the media who is creating this issue not them." Well if that's the case, then why did Sunil refuse to even acknowledge questions about Kapil?
Hmmmm…Looks like we'll have to dig a little deeper to get some more answers . Meanwhile BollywoodLifers, keep watching the space for more updates on Mad In India!