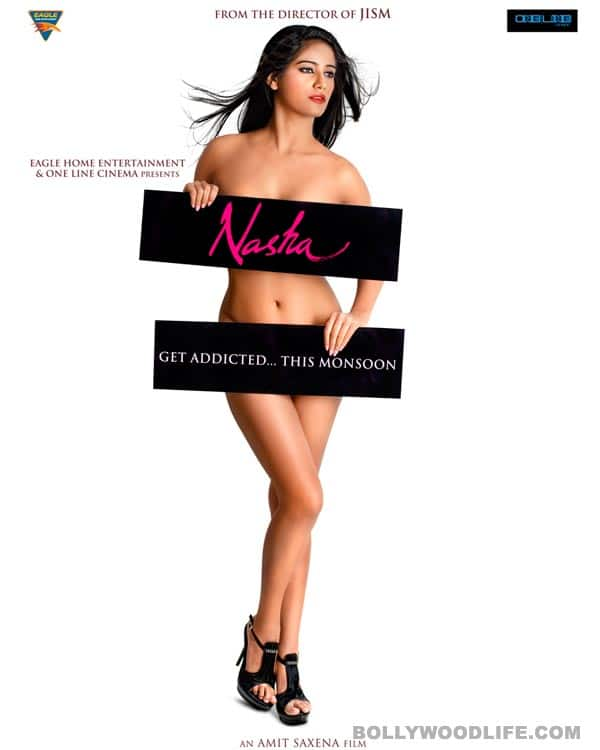 The saffron gang pulled down posters of Poonam Pandey's soon-to-be released debut film citing the posters as vulgar and objectionable. Is the Uddhav Thackeray-led political party giving more mileage to the film with unnecessary controversy?
Poonam Pandey continues to court controversy. This time around, the Kingfisher-model-turned-Bollywood-wannabe has managed to anger the Shiv Sena. The political party's devoted sainiks are annoyed with the posters of Poonam's debut movie, the erotic Nasha, directed by Amit Saxena. The party has forced the film's producer to pull down publicity posters in Lower Parel and Borivali. In an angry protest, sainkis burned posters of the movie at Mahim, claiming that they were offensive.
Akshay Bardapurkar, the general secretary of Shiv Sena Chitrapat Sena maintains that the party finds the poster highly vulgar and derogatory and won't allow such hoardings to be displayed across the city. Aditya Bhatia, producer of Nasha, claims that he was threatened by the saffron gang. "My outdoor publicist called up to say that Shiv Sainiks had made him pull down the hoarding. They found Poonam's posture objectionable. But my publicity stills have been approved by the Western India Film Producers' Association. So I am not going to pull the other hoardings down. I am even thinking of filing a complaint," said Bhatia.
We at BollywoodLife have always been amused by Poonam's dare-bare stunts that could easily go unnoticed. Why is the Shiv Sena then taking such drastic measures, thereby unknowingly giving more publicity to the Pandey babe and her erotic drama?
PS: Ms Pandey has finally made it to the headlines, thanks to the outrage of the sainiks. Poonam could not have asked for a better publicity drive than this one, that too, without spending any money! The posters of Nasha may not be seen in public places in the days to come, even as some really vulgar hoardings of other seedy films continue to shine all over the city – is that a joke? You tell us, BollywoodLifers!