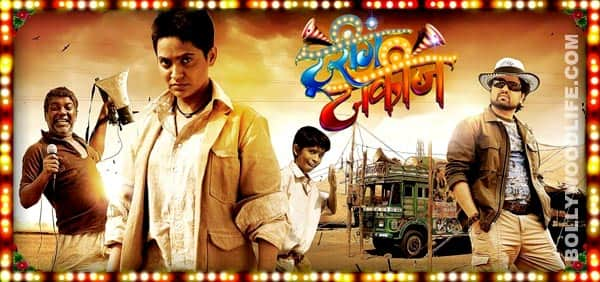 The concept of the watching movies in a tent no longer appeals to audiences in the drought-ridden state's villages…they prefer cable TV or DVDs at home!
Marathi film Touring Talkies (directed by Gajendra Ahire) has been in the news lately, and it brings back into focus the business of travelling theatres. Still running in rural India in spite of the penetration of cable TV, DVDs and the Internet – in some places – the concept of watching films in a mobile theatre is dying a slow death every day.
And no, the above-mentioned factors are not the only ones responsible for the scenario, but come second to seasonal elements and natural calamities like famine. According to trade reports, the drought in Maharashtra has lead to the shutting down of many once-popular mobile theatres. Some companies have tried moving out of the state and heading to neighbouring Goa to find an audience.
Economics is at play here, big time. People don't have enough water and food, so who could possibly think of watching a movie that comes at a cost most cannot imagine paying? Also, the slightly better off villagers have cable TV and DVD players, which can afford them a movie for the entire family in the price of one touring talkies ticket. So why spend and sit in hot and dirty tents for that pleasure?
The movie Touring Talkies depicts in a light manner tactics such as porn clippings being mixed with the main film and also the renaming of films with double entendre titles and makers resorting to innovative marketing gimmicks such as a prize raffle to gain audience attention.
We don't know how much of all this actually happens in real life. But we do know that the other big sword hanging on the talkie owners' heads is the exorbitant tax they are charged for showcasing pictures in their very special way. It's a sad scenario really. And if posh multiplexes were exempt from entertainment tax for the first five years as an incentive, couldn't the government think of something similar for the poor cousin, the village tent talkies? Maybe they are too few in number and have too little money for the officials to take notice. So what next, mini-multiplexes in rural India? We would not be surprised….