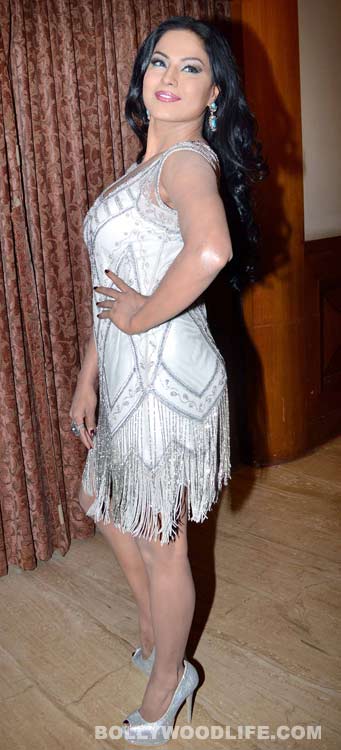 Dressed in a silver dress with tassels, VM looked absolutely horrid in that shiny ensemble
As Veena Malik teams her shiny silver dress with bling peep-toe pumps at the promotional event of her next film The City That Never Sleeps, we can't help but wonder what made her opt for such a ghastly style. In fact, her not-so-aesthetic, almost nude photo shoots are much better than her off-screen fashion statements. The turquoise earrings, the blue eye make-up makes it worse.
We still remember how VM used to be this la-di-da fashion conscious lady when she was a member of the Bigg Boss house. Perpetually parading around in stylish pumps, even while making a quick visit to the washroom, this Pakistani babe used to be concerned about her looks in an absolutely annoying way.
But looks like doing shady films and resorting to awful style choices is what VM likes to do these days. We don't know what her next film The City That Never Sleeps is all about, and neither are we interested, and honestly we definitely don't want to lose sleep over her shocking style statements…