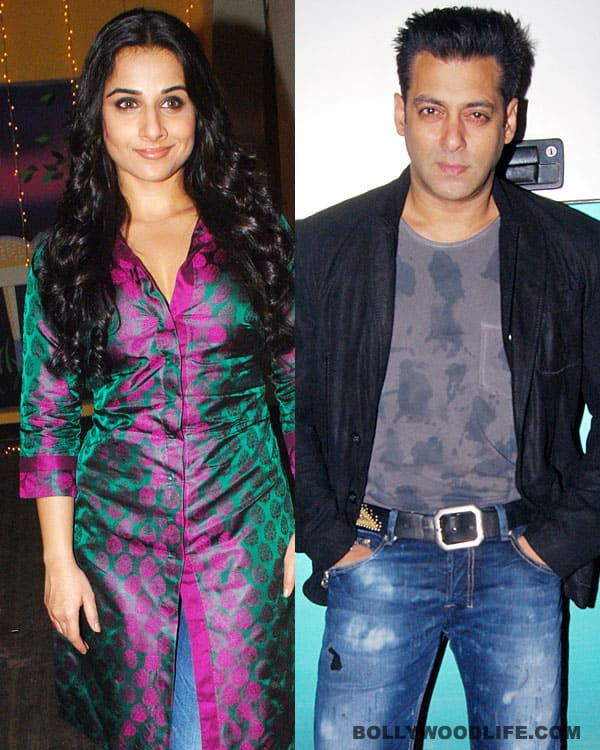 The Kahaani actor refuses to pair with the ultimate superstar of Bollywood. What could be Vidya's reason for refusing to do a film with Salman Khan, who is ruling the box office like a king?
At a time when most of our Bollywood babes are dying to share even a frame with Salman Khan, here's Vidya Balan who has apparently refused to be paired alongside bhai! Salman is clearly the most bankable star in the industry today and his last four films have done record business. And now, even a certain King Khan must be spending sleepless nights tossing and turning in his king-sized bed anxiously.
Such is the popularity of Sallu that B-town starlets are happy to do anything that has the name Salman attached to it. Why then is Vidya not interested to play Sallu's heroine in an untitled project? Is Vidya acting pricey or is she getting overconfident?
But then Vidya has always been different, hasn't she? After all she is not called the fourth Khan of B-town for nothing. Vidya has proved her acting capabilities in films like Parineeta, Paa, No One Killed Jessica, The Dirty Picture and Kahaani. And after portraying such a vast range of characters Vidya is not keen to play just an arm candy on Sallu's toned shoulder in a regular masala film. She obviously needs a role that can justify her supreme talent.
As much as we would love to see Salman and Vidya romance on the big screen, running around trees and singing a song in an exotic foreign locale is definitely not Vidya's thing! We do think that she shouldn't waste her talent on massy no-brainers. So we are quite confident that she has made the correct decision. Right, BollywoodLifers?