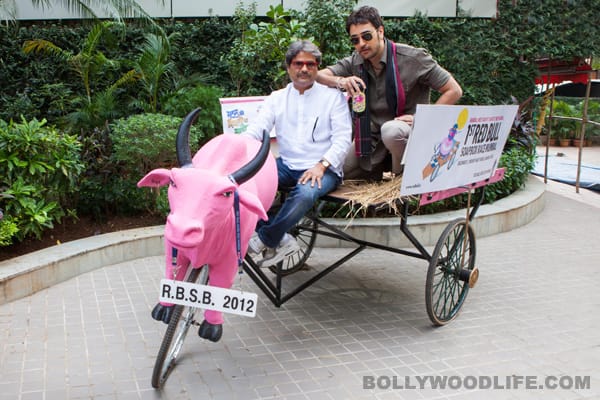 Gulabo, the cow, has found her way into the promos of this Imran Khan-Anushka Sharma-Pankaj Kapoor starrer. So what's wrong with that?
We enjoyed watching Anushka Sharma, Imran Khan and Pankaj Kapoor dance in a crazy manner in the trailer of Vishal Bhardwaj's Matru Ki Bijlee Ka Mandola. But the pink cow named Gulabi that appears towards the end hasn't gone unnoticed.
In fact, Gulabo has become such a sensation that people started called her the item girl of MKBKM. Lol! "This is being stretched a bit too much now, this Gulabo as an item girl thing. There is nothing of that sort, she is just a character in the film and I don't want you to stretch it to such a limit that people watch the film only for her," a miffed Bhardwaj was heard saying.
And to make people focus on better, or rather more crucial stuff in the movie, Vishal even said, "Let's move beyond Gulabo, there are other 'gulabi' (rosy) things in the film, let us concentrate on them also." Oooh! Now that you have said it, dear director, we better find those promised 'gulabi' things in MKBKM.
And while we wait for this 'rosy' picture to unfold, tell us readers: What's your take on Ms Gulabo (the pink cow) in the official trailer of Matru Ki Bijlee ka Mandola?