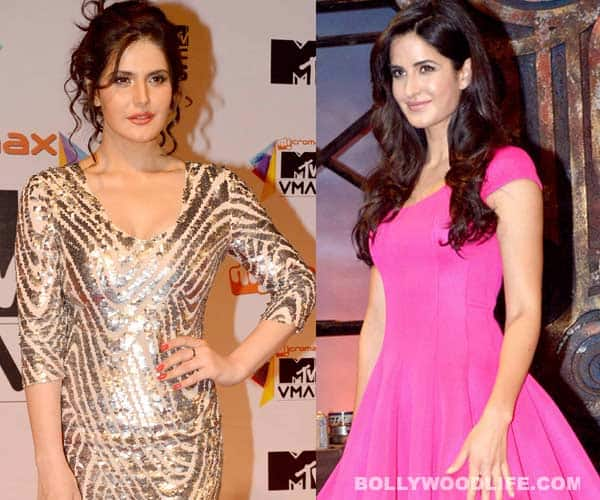 The almost forgotten actor rose to fame coz she is a lookalike of the Kamili girl
When we heard her name in the news this morning, it took us sometime to recall who Zarine Khan actually was, but later on we realised she was the girl whom Salman Khan launched in Veer and was touted to be the next Katrina Kaif. Sadly for her Veer tanked and the movie offers also dried up. Salman once again tried to revive her career by offering her the song Character dheela hai in his mega hit Ready, but that too didn't put a great mark on her career. Even though she featured among the many heroines in the Rs 100 crore Housefull 2, her career sank without a trace. Now she is back in news and this time with a lame reason for her failed acting career.
The 26-year old actor, who was always considered as Katrina Kaif's lookalike, now blames the Dhoom:3 star for everything that's gone wrong in her career. Talking to a leading daily she informed that the "unfair comparison" affected her career prospects. Zarine says, "Even before my film was released, people started saying that the Veer heroine looks like so and so. And, the audience is such that they live with what they are fed. People didn't even give me a chance. I guess the whole comparison with Katrina Kaif affected my career. Katrina is a beautiful person and probably, if I weren't in the same field as her, I'd be flattered by all the comparisons. I was a newcomer and even before the film actually released, people started criticising me for my weight and acting skills! But they didn't realise I was asked to put on weight for the film."
Who made Zarine Khan lose weight?
Interestingly though now people have started comparing Zarine's looks to that of Elli Avram. What does she have to say about that? "This is so unfair. Why do people compare me to Elli… shouldn't she be compared to Katrina?" she retorts.
Now what can we say. We feel all these accusations and grievances are the work of an empty mind! After all when you don't have enough work (read: acting talent) you always tend to find some or the other excuse. In her case she has the lamest of them and is putting all the blame on Katrina Kaif. We just can't stop laughing. What about you BollywoodLifers?