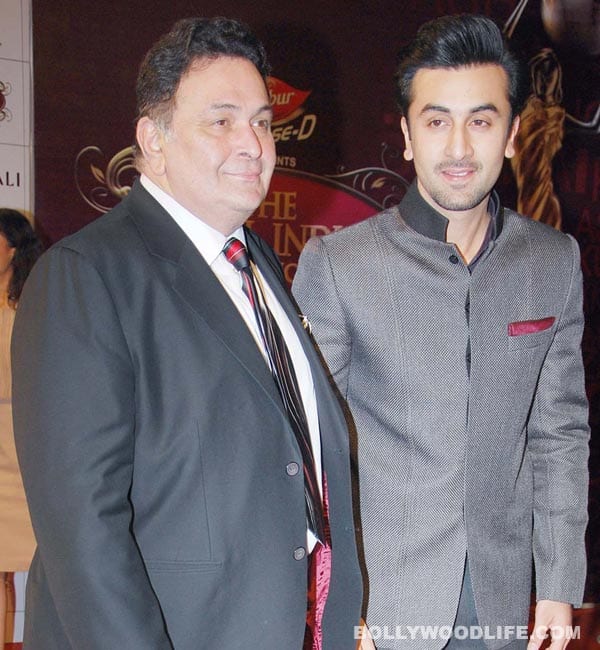 Rishi Kapoor has often grabbed headlines courtesy his king size ego and temper. While the veteran actor has irked many with his gussa, this time he has managed to upset his son Ranbir. We hear this father-son has hardly spoken to each other in the past few months. But aisa kya hua? Read on to know…
Ranbir Kapoor, Rishi Kapoor and Neetu Singh came together for Abhinav Kashyap's Besharam and the trio looked like a happy family during the promotions of their film last year. But since then things seem to have changed especially between Sr and Jr Kapoor. As per the latest buzz, Ranboo isn't quite happy with his father. The two recently had a heated argument as the Rockstar actor felt that his daddy dearest is being more vocal about his relationships than needed. Be it ex-girlfriend Deepika Padukone or current ladylove Katrina Kaif, Ranboo thinks the Agneepath baddie has spoken about all of them. Not to forget Rishi Kapoor's outrageous statements like, "Any girl would like to date him. Abhi nahi karega toh kab meri umar mein aakey karega? and "He's (Ranbir) seeing everyone because I keep seeing A B C and D in the house." Well, the 61-year-old actor maybe joking but his remarks haven't really helped RK clear his casanova image, hai na?
Maybe that's the reason why this these two don't get along, right? In fact, Kat's alleged beau has even made it clear to his father that he doesn't want to read anything about his personal life in the papers coz of him. We don't blame Ranbir as the actor has often said that his father never really thinks before speaking and coz of this very reason he even gets yelled by his wifey. But the story doesn't end here. Even Rishi Kapoor is miffed with his laadla beta coz of his recent antics. Remember not too long ago how he snatched away a photographer's camera and zoomed off in a car?
So basically both Ranbir and Rishi Kapoor are upset with each other. In a way, they both are quite similar and who knows maybe that's why they don't share a normal father-son relationship. Aren't both of them strong headed and believe in doing what they think is right? More importantly they are Kapoors – boisterous and quite stubborn. It's an old adage 'birds of feather flock together' but that doesn't hold true in this case wethinks.