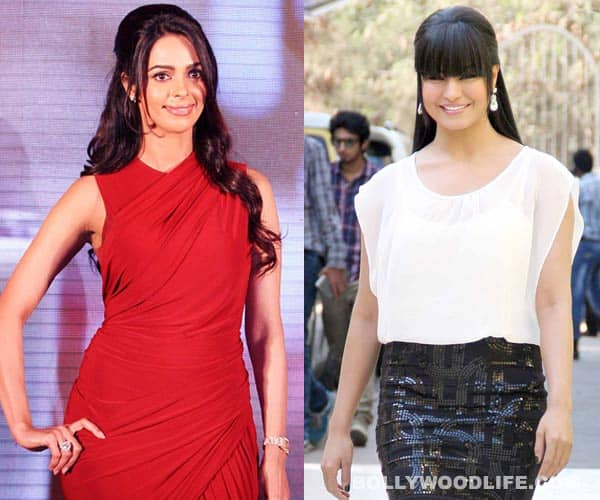 Ms Sherawat is back to grabbing the limelight courtesy her new reality show The Bachelorette India – Mere Khayalon Ki Mallika. But the babe should thank Pakistani actor Veena Malik asap because….
Before the makers of The Bachelorette India approached Mallika Sherawat, the show was offered to Pakistani actor and former Bigg Boss contestant Veena Malik. Yes, that's what the Supermodel babe claims. But what's even more surprising is why she refused to do the show. She said in an interview, "The Bachelorette was first offered to me. After I refused, it went to Mallika Sherawat. I was also supposed to do Swayamvar on TV, but then it didn't happen. When Bachelorette came to me, I was shooting four films back-to-back, and I couldn't have let the producers' money go waste while I was busy honeymooning. No matter, main kitne bhi ishq-mohabbat karoon, I will make sure that I marry the best man. But I don't think this is the right time to look for Mr. Right. I would like to concentrate on my career for a few years."
Sounds like Ms Malik is more busy than the leading ladies of Bollywood, hai na? But Veena, you refused to do the show coz you were shooting for four films…really? Believe us, we had no idea about this until you revealed it yourself! We hope these films are going to release in India – after all, we don't know anything about any one of them except for Supermodel, and that is more because of your bikini shoots and that punga you have with Ashmit Patel, your hero…in the film, of course! Think about it this way: If Veena had accepted the offer, at least she could have stayed in the news and obviously would have got a chance to do a little coochie-cooing with some good looking men, no? And as for the 'concentrate on my career' bit, wethinks Veena first needs to learn how to act and then maybe try for an eternity or two to make a career of it. At the same time, we are glad that at least Veena's decision has given Mallika some direction in her aimless career. Or else she would still be in Hollywood posing with celebrities at social dos and claiming them to be her friends rather than admitting to being a fangirl. No more embarrassment for us…yay!