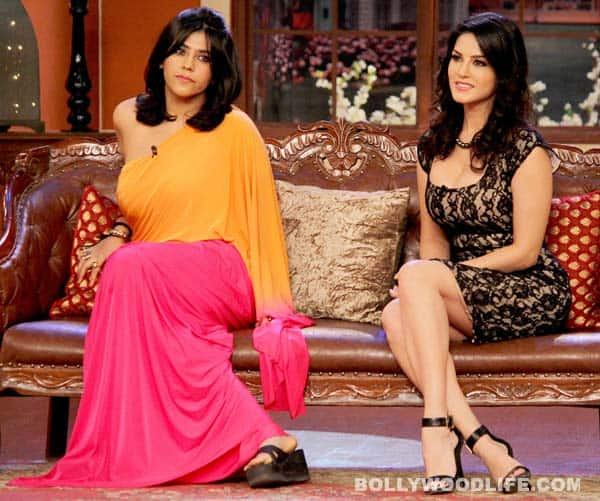 Thanks to Sunny's sexy avatar, Ekta's latest venture Ragini MMS 2 has got cash registers ringing. Yet we hear the Balaji head honcho isn't miffed with her leading lady. Is the TV czarina acting too pricey? We certainly think so
Ekta Kapoor should be celebrating coz her latest horrex film Ragini MMS 2 has unexpectedly done well at the box office. But surprisingly, the producer-director isn't happy. In fact, she has decided never to work with Sunny Leone. Wondering why there equation has changed suddenly? Apparently, things were never smooth between the two ladies. Ekta is super miffed with Ms Leone coz the latter gave a hard time to the former's production team during the shoot of their film Ragini MMS 2. There were times when Sunny agreed to do certain scenes but then backed off at the last minute. That's not all. The Baby doll gal had to be convinced to do the bold scenes in the horrex film. Reportedly, Tusshar Kapoor's sister was irked coz her heroine was calling the shots on the sets of the film. So basically Ms Kapoor had a horrid experience working with the Jism 2 starlet and hence has vowed to stay away from her personally and professionally too.
Frankly speaking, wethinks it should be the other way around. Though Sunny Leone is trying to do away with her porn star image, Ekta made it the USP of Ragini MMS 2. Remember we had told you Daniel Weber's wifey wasn't happy coz the film was being marketed not as a horror story but as a skin show flick. Even the trailer of Ragini MMS 2 was nothing less than a sleaze show and that had ticked off Sunny big time. However, the once-upon-a-time adult actor went with the flow and we all know she has done quite a few steamy scenes in the film irrespective of the fact that she is trying to shed her sexy image to make it big in Bollywood. In that case, it was Sunny who compromised, hai na? More importantly, Ragini MMS 2 wouldn't have rocked at the box office if is starred some other actor.
The bottom line is – Sunny Leone has made Ragini MMS 2 a success. So why is Ekta Kapoor being so snotty?