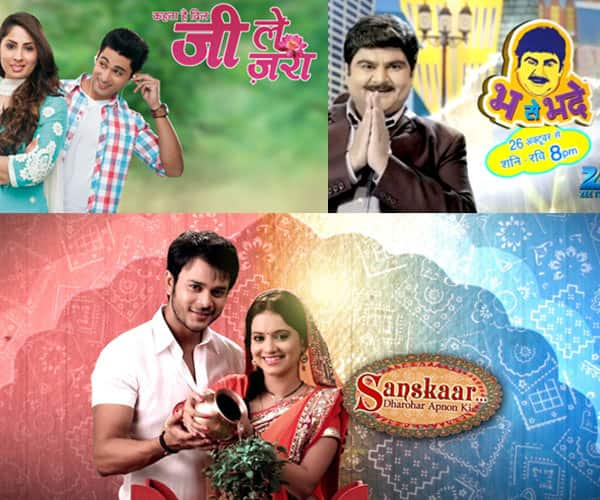 TV serials run because of a good storyline, talented cast, chemistry between the lead and the time slot it runs at
If you go by the TAM ratings of Week 8, you will find that most shows on Star Plus have a gun run and a large number of people are following them. Colors came second in place followed by Zee TV, Sony TV, SAB and Life OK in the given order.
Comparatively most shows did pretty well but seven prominent shows came under the radar as they received below 2.0 rating. Ishq Kills, Sanskaar Darhohar Apnon Ki, Bh Se Bhade, Boogie Woogie, Kehta Hai Dil Jee Le Zara, Desh Ki Beti Nandini and Main Na Bhoolungi.
If you ask us, we think these shows should either up their game or simply shut shop. There is no point in giving audiences mediocre content, no? And if they do not wish to pull the plug then at least give us something interesting to watch, no?
Ishq Kills: TRP – 1.9
The show talks about love tangles gone wrong and the crimes committed over it. Hosted by Vikram Bhatt, Ishq Kills has an interesting concept, but somehow this crime based show came across as just another version of the already existing Crime Patrol and Savdhaan India. Giving it a benefit of doubt, since the show has just begun, let's hope the numbers pick up soon.
Sanskaar Darhohar Apnon Ki: TRP – 1.7
The story of a joint Gujarati family is rather boring. The concept which has been running since ages is being showcased with new actors. Making actors like Jay Soni and Aruna Irani a part of the cast won't make the story watchable. Really!
Bh Se Bhade: TRP – 1.3
The comedy show has an edge – Deven Bhojani in a double comic role. The concept is unique but there are no buyers for the show. Guess such a comic act should be reserved for the stage only.
Boogie Woogie: TRP – 1.9
There are a gazillion dance reality shows running on TV nowadays, what is so special about Boogie Woogie? Well apparently it caters only to kids. Frankly, that doesn't impress us much! It's true that the dance programme has been the pioneer of dance reality shows, but with such competition in the market, Boogie Woogie somehow does not seems to be up to the mark.
Kehta Hai Dil Jee Le Zara: TRP – 1.7
No matter how much they try, Sangeeta Ghosh and Ruslaan Mumtaaz just don't have enough chemistry to set the screen on fire. Not even the numerous bedroom sequences will turn anything around. As for the story track… they should truly consider hiring new writers!
Desh Ki Beti Nandini: TRP – 1.4
The political daily soap is like a dying duck. They've tried their level best to push romance, twists, and god knows what. But nothing has worked for the show. The makers have now decided to pull the plug. Guess common sense truly prevails!
Main Na Bhoolungi: TRP – 1.2
While the show has a brilliant actor like Aishwarya Sakhuja, the show lacks any fresh content. It's going through the same redundant storyline that has been churned out by every daily soap ever made. Come on people, think creatively!