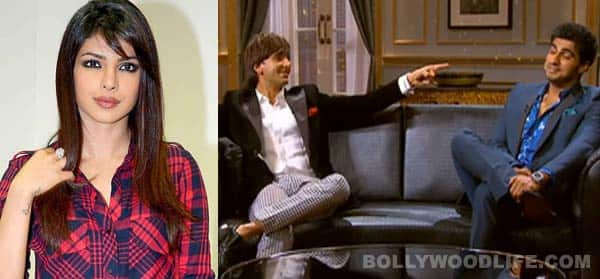 We just got to see Bikram and Bala and during the last song launch from Gunday
Priyanka Chopra was missing from the promotional events of  Gunday that took place in Mumbai  last year.  Ranveer Singh and Arjun Kapoor launched the song Jashn e Ishqa.The duo also made an appearance on Karan Johar's popular chat show Koffee with Karan 4. And all they talked about was each other and their awesome chemistry. So was PeeCee being sidelined? Is Gunday a Ranveer-Arjun film? Will Priyanka be only and eye-candy in this film and entice the audiences with her cabaret moves or will she showcase her acting prowess too? Well, looks like PC fans can finally heave a sigh of relief as the actor is ready to go a promotion spree with her co-stars and will be seen at the second song launch event in Mumbai today.
The Exotic babe had an exhausting 2013, but after a break with her family and friends she's back in town and in action. Priyanka along with Ranveer and Arjun will launch the latest song from the film. Will this be her much talked about cabaret number? Watch this space to find out!