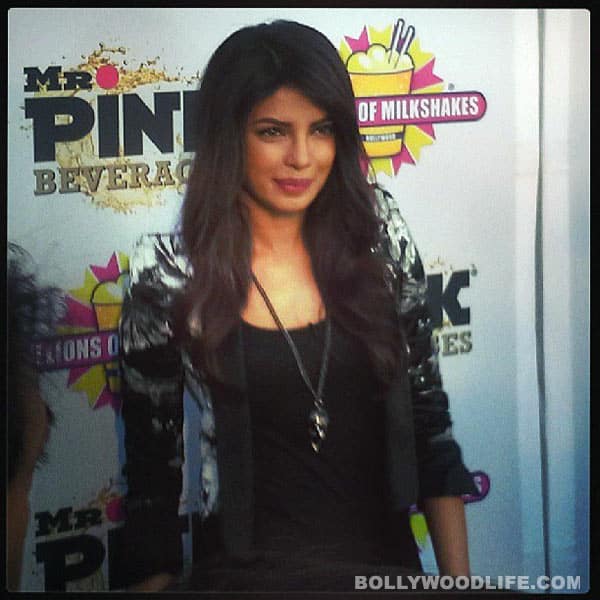 We hear that the police stepped in at Priyanka's 'Exotic' milkshake launch? Did PC get into trouble with the law in Los Angeles?
Well, not really, so you can relax. Priyanka Chopra was at Millions of Milkshakes in West Hollywood, California, yesterday for the launch of her very special 'Exotic' milkshake. The singing sensation's arrival created such a fan frenzy outside the store that the West Hollywood Sheriff's Department had to shut down the whole shebang. Well, great going, Pee Cee – looks like Bollywood's most exotic import has managed to create a sensation in the West too!
Amidst all this commotion we decided to decode PC's latest offering. After all a person's drink reflects a slice of his or her personality, no? So after a couple of slurps and a careful taste test, we discovered that Priyanka's Exotic shake includes banana, almonds and a touch of Mr Pink Ginseng Drink. This babe is definitely treating you to a healthy drink – almonds and bananas are great on the tastebuds and have fab nutritional value; and then there's the ginseng, which can do plenty to keep you on your …err … toes. We like what Pee Cee has come up with – a healthy mix, low on fat and high on energy. Now is that the secret of her sexy bod?
And Priyanka isn't the first to custom-make her milkshake. Some years ago, Koena Mitra spent time in LA and was invited to come up with her own flavour – Koena's 'Power Shake' has mixed berries, pineapple juice, bananas and vanilla ice cream. Mallika Sherawat did her version more recently with vanilla ice cream, mixed berries and strawberries, all topped with whipped cream. What we have to wonder is, with all that indulgence blended into one tall cool glass, how do these bootylicious babes keep in shape?
But for now, you tell us – will you take a swig of Priyanka's Exotic milkshake?
[jwplayer mediaid="250091″]