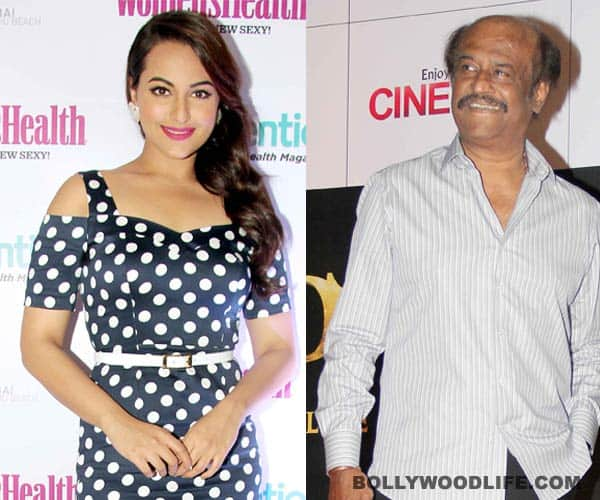 Apparently, the Southern megastar was a bit uncomfortable with the idea of romancing Sona onscreen. But why?
From what we hear, Sonakshi Sinha will be paired opposite the megastar, Rajinikanth in K Ravikumar's next film. However, getting these two actors to romance each other on the 70 mm wasn't a cakewalk for Ravikumar. Reportedly, this offer was accepted only after the filmmaker re-worked the script to justify the age difference between Sona and Rajini.
"Shatruji and Rajinikanthji are contemporaries. When the two of them worked together in K C Bokadia's Asli Naqli, Sonakshi was running around on the sets in frocks. Now to be offered a role opposite Rajini sir is a bit like cradle-snatching," a source close to Sonakshi was quoted by a portal.
For those of you who don't know, Sonakshi was also offered a role opposite Kamal Haasan in Vishwaroopam, but she chose to walk out of the project. "When Rajnikanth's arch-rival Kamal Haasan had cast Sonakshi in Vishwaroopam it was the role of a woman married to a man far older than she. Sonakshi Sinha had backed out feigning a date problem. If Sonakshi is going to be cast with Rajinikanth who is far older than Kamal, the pairing would have to be rationalized for the North Indian audiences. In South, Rajini Sir's fans are used to seeing him work with heroines his daughter's age," says the Chennai source.
But then, hasn't Sona worked with actors far older than her including Ajay Devgn, Akshay Kumar and Salman Khan? So we wonder what was this hesitancy all about. Anyway, all said and done, we are quite looking forward to see Rajinikanth romance Sonakshi on the silver screen. What about you peeps?