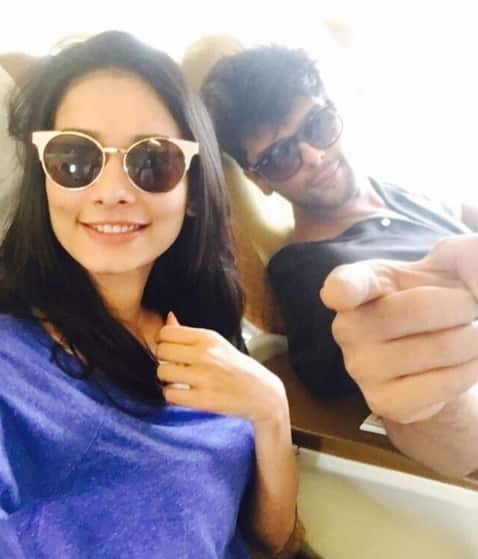 Kushal Tandon, Aneri Vajani and Jennifer Winget's psychological thriller, Beyhadh, finally hit the small screen. Jennifer Winget plays an obsessive lover, Kushal plays a photographer and Aneri plays his best friend who is a law intern in Jennifer's company. The show is one of a kind and reminds you of movies like Gupt, Pyaar Tune Kya Kiya and Gone Girl. The promos had already created a buzz about the show and got people talking about it. Jennifer Winget's performance added the required glamour and thrill to the show. Aneri is not only Kushal's best friend but also secretly loves him in the show.
The second lead in the show, Aneri Vajani, told an entertainment portal," If I don't get good vibes from a person, I walk away no matter who he or she is. But Kushal is a gem. We share a crazy off-screen chemistry, although he is ten years older than me. When he is around me he behaves like my age and we talk shit. Our off screen one liners have even been incorporated in the episodes." Aneri and Kushal are close friends both, onscreen and off-screen. The actress said that Kushal is very protective and chivalrous. She says," When we had gone to Indore to promote the show the crowds were pushing me and Jennifer. He became very protective about us." A true gentleman at heart, indeed! In fact, Kushal had also saved Aneri from burns once when she accidentally dropped a hot cup of coffee. (ALSO READ: Check out Beyhadh's TV review right here)
When asked about whether their onscreen chemistry will eventually lead to them romancing in real life, the actress said that she would prefer someone her age and Kushal is ten years older than her. But the age gap doesn't affect their equation off-screen at all. "Kushal is very conscious of our onscreen appearance so he keeps telling me to eat more or work out so that I do not look like a kid in front of him", said Aneri.
Kushal Tandon was recently in news for opening up about his ex-girlfriend, Gauahar Khan and his onscreen chemistry with Jennifer Winget. Kushal told BollywoodLife," I believe in letting bygones be bygones. I know it is difficult to be friends with your past (relationships/exes) but if there is a way to be friends, then it is better that way. We had a chat and sorted out our issues. Yes, things are cordial now."