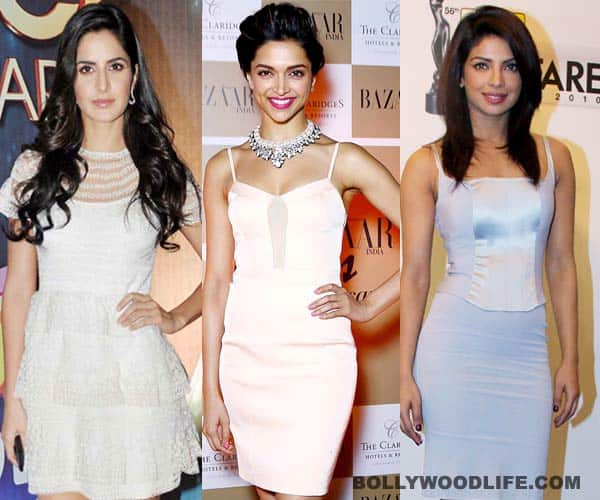 Will the three most ambitious B-town babes give up on love for their career? Well, looking at the current Bollywood scenario we would not be surprised if they did
For long time now, heroines have added glam quotient and sex appeal in a movie. However in the recent past actors like Vidya Balan, Priyanka Chopra, Deepika Padukone and Kangana Ranaut have changed this and instead chose to successfully deliver hit films without any backing from a Khan, Kapoor or Kumar. While a hero's marital status might not affect his movie's fate at the box-office, a heroine's career graph makes a downward move the moment she is hitched or becomes a mommy. Even today a Bollywood heroine doesn't stand on the same platform as her male counterpart. Here are three Bollywood A-listers whose careers have nosedived post marriage, which might just be enough reason for single ladies to ditch any marriage plans at least in the near future.
Kareena Kapoor Khan: We have honestly lost count of the number of movies that Bebo has refused in past few years. Ms Kapoor Khan has said she has turned down several blockbusters including Kangana Ranaut's Queen, Deepika Padukone starrer Chennai Express and Goliyon Ki Rasleela Ram-Leela etc etc. The actor had to quit Shuddhi opposite Hrithik Roshan recently after Karan Johar's hero walked out. Unfortunately for this heroine her film with Farhan Akhtar Bombay Samurai has been shelved, which leaves the once extremely busy star with just one movie in her kitty – Singham 2.  While KKK is keeping herself busy w3ith endorsements and appearances, the going isn't great there too. Apparently the actor has had to slash her rates. Rumours also suggest that she is sending out feelers to Sanjay Leela Bhansali to cast her in Bajirao Mastani. While Kareena Kapoor seems to be living her onscreen Heroine role in real, it's a shame to see the once sought after heroine have a drought of filmi offers.
Vidya Balan: The latest khabar doing rounds is that Sujoy Ghosh ditched his lucky charm  Vidya Balan and has roped in Kangana Ranaut for his upcoming film with Irrfan Khan. While Ms Balan has vehemently denied all rumours of pregnancy and seems to be on a much needed break, looks like good friend Ghosh who sweared to not go ahead with the film without Vids is now considering the Queen babe for his film. Sujoy was ready to wait for Vidya until she was free from all her commitments but looks like Ms SRK's (Siddharth Roy Kapur) pregnancy news has given Mr Ghosh a cold feet. That's not it, we also hear that Vids pregnancy news had started debates and discussions on pregnancy clause in Bollywood for heroines. Vidya can aptly term the latest episode of her life after her last release – Shaadi Ke Side Effects!
Aishwarya Rai Bachchan: Once the most beautiful face even on the global platform is now on an official leave from filmi circuits. Her career post marriage with Abhishek Bachchan in 2007 didn't see a lull moment, but after baby Aaradhya's birth looks like Ms Rai Bachchan is just not ready to face the cameras. With not a single movie since 2010, every rumour about her signing a movie becomes a headline. While she still appears on ads, silver screen is deprived of Ash's magnetic presence on scree. We dunno if its a self-imposed exile or then lack of lucrative offers that has put a full stop to Aishwarya Rai's Bollywood career.
With three top heroines as examples who are suffering the aftermath marriage, we're sure that the ruling queens will not wanna be in their shoes.