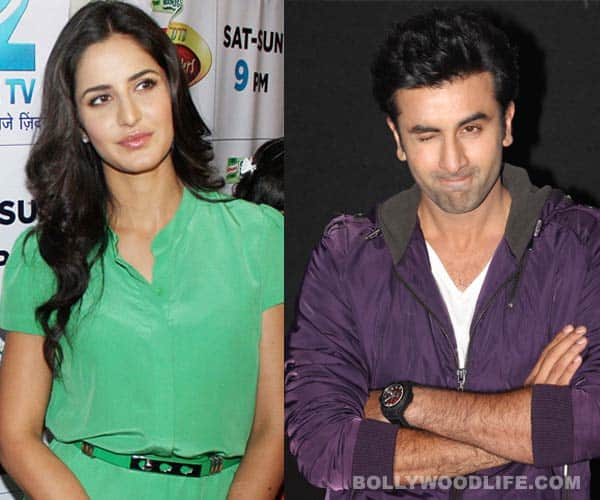 While wise men insist you should never say never, our khufiya khabri insists that the Ek Tha Tiger babe will…umm… never be in a romantic relationship with the Barfi! actor
Like it or not, when two, good-looking, successful singletons meet, tongues will wag endlessly. So when we recently asked our dedicated readers if they suspected anything fishy about Ranbir Kapoor and Katrina Kaif's midnight meetings, 59 per cent voted that they are in love and 41 per cent believe they aren't.
And so we were bamboozled about the real relationship status between the 'just good friends', our khufiya khabri came up with some startling truth. "Recently Katrina Kaif met Rishi Kapoor on the set of a film, and they started talking about everything under the sun," said KK, and added that the senior actor and pretty babe have shared a mutual admiration society since the Namastey London days. Remember, Kat played RK senior's daughter in the film?
One thing led to another and eventually the two got talking about Ranboo's philandering ways. And like a good papa, RK senior – who had his share of 'fun' before tying the knot with girlfriend Neetu Singh – unabashedly defended beta's promiscuous behaviour. And KK insisted that is something that hasn't gone down well with Kat. And that's the reason why their dosti will not transform into Ishq wala love.
Meanwhile, the Barfi! boy has finally reacted to the undying speculation surrounding his recent visit to the Ek Tha Tiger babe's apartment. Ranbir very nonchalantly said: "Katrina is one of the nicest, coolest and most hardworking girls, other than being beautiful, talented and normal". And that's the reason he likes to hang out with her, but he is disappointed that their friendship is highly misunderstood by anyone and everyone in B-town. He also added, ""I was always her dear friend."
Hmmm. But then again we would go with what wise men also say don't believe everything you hear or read, 'coz in Bollywood things can change in 24 hours!