Why won't Diana Penty wear a bikini?
Keyrun Rao
Last Updated: 4.18 PM IST 07.11.2012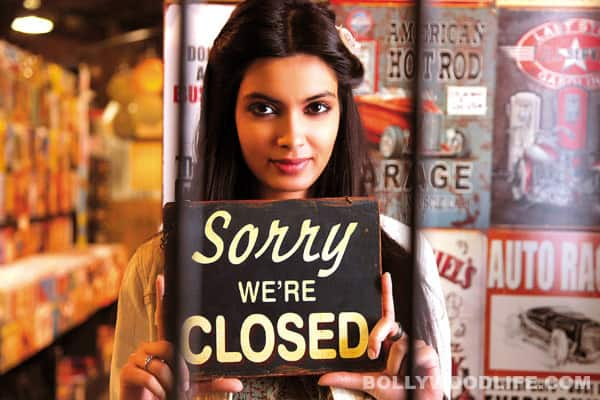 Sign up for the BL newsletter!
The Cocktail actor makes her debut this weekend and she is excited, nervous and eagerly waiting for the response to her first big screen appearance. The butterflies are fluttering madly around her tummy…
Though Diana Penty is a well known face on the modelling circuit, Bollywood is new turf for her. A bundle of nerves, Diana almost cancelled the interview, but was coaxed and cajoled by her Cocktail co-stars Saif Ali Khan and Deepika Padukone, after which she agreed to speak. Very soft-spoken and shy, this newbie has managed to get noticed in the trailer and song promos, despite the presence of biggies like Saif and Deepika. She shares her experience of working in a film, how she bonded with her co-stars and her reservations about going bold a la Dippy…
Did you always want to be an actor?
No! Actually I was one of those girls who are serious, responsible and mature. I went to school, completed my graduation and post that, I started my advertising career. I never even imagined that I would get into modelling. But once that happened, and I earned a name for myself on the modelling circuit, acting was naturally the next thing that I wanted to do.
I met a few filmmakers, but nothing really materialised. It was Imtiaz Ali who recommended me for Meera's role in Cocktail. I met director Homi Adajania at Saif's office, where I was auditioned once. And that was it – the next day I was on board. I wondered if they wanted to take some time before they cast me in their film (laughs). It was certainly like a dream come true!
We really liked you in the trailer of Cocktail, you made it look really effortless. How did you pull it off?
I am glad you felt so, but it was anything but effortless. There was a lot of homework that I had to do. There were acting workshops, language and diction classes, et al. We used to have reading sessions with Homi, which added to my understanding of the character. After so much hard work that was put in, you finally get to see the results in the trailer.
I am not a trained actor, but it helped a lot that I could completely relate to the character of Meera that I play in Cocktail. I was amazed to see the way Saif and Deepika improvised while we were shooting the scenes. I kept wondering how they managed to do so. I would give a lot of credit for my performance to Homi, because he knew exactly what he wanted from his actors.
Did you notice your face on the hoardings of Cocktail?
Yes, I have seen a few of them recently, and I feel like hiding my face. My face looks so huge on the hoardings! It's a weird feeling.
Have people on the street started recognising you as that girl in Cocktail yet?
Not really, as I haven't really been out in a while. I have been in and out of studios giving interviews. But yes, I have seen some people stare at me a little longer than what I am used to.
How much have you changed post Cocktail?
This journey has been like a process of self discovery. I've learnt there's nothing you can't do. I danced, for instance. I am not as reserved as I used to be. I've been on the reserved side since I was growing up, perhaps because I was an only child, but that changed. I am way more confident. I'm more expressive and vocal.
If you were offered the role of Veronica (played by Deepika), would you be able to pull off the bikini act?
No, I don't think I would be able to do that. I have some reservations about how far I would wish to go. I would not be comfortable doing bikini acts and intimate scenes.
Which film starring Saif do you like the most?
I thought he was amazing in Omkara.
Who are the directors and actors that you are eager to work with?
I think it should be the other way round. I would like to know which directors and actors would like to work with me, after they see my work in Cocktail. I think it is too early for me to be making any such wish lists. My first film is yet to release, and for the moment that's all I am thinking about.
Will modelling take a back seat now?
Absolutely! After such a wonderful experience, I would only like to act.
Which actors do you look up to?
I don't know how this popped up in my head right now, but I love Kate Winslet.
What about in Bollywood?
(Thinks for a bit) I would say Vidya Balan.
ALSO READ: COCKTAIL: All you need to know about the movie
Deepika Padukone: I wouldn't have done 'Yeh Jawaani Hai Deewani' if I wasn't comfortable working with Ranbir Kapoor
First Published: 12.21 PM IST 07.11.2012