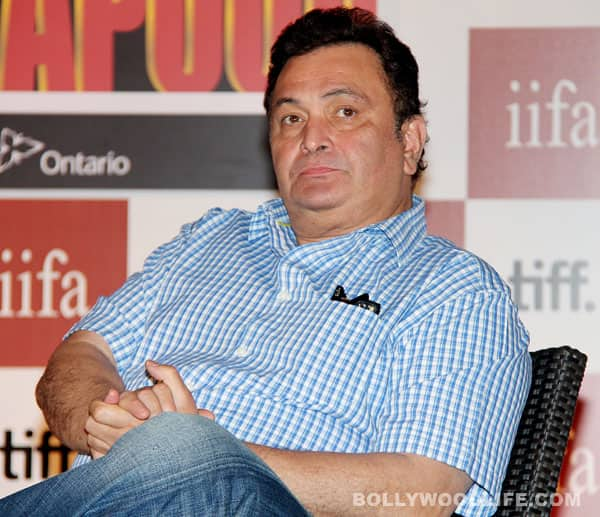 News is that the Agneepath actor has agreed to play the notorious gangster in D-Day. But will he be referred to as Dawood in the film? We wonder…
Over the years, Bollywood has brought some real life criminals alive on screen, successfully. But we wonder what's so special about the underworld gangster Dawood Ibrahim that draws so much attention from filmmakers even today, as though they just can't get enough of the dreaded don. While we've seen stars like Ajay Devgn (Company), Emraan Hashmi (Once Upon a Time in Mumbaai) and Randeep Hooda (D) enact roles reportedly based on him, it's quite surprising to learn that Hindi cinema's eternal chocolate boy, Rishi Kapoor too will relive Dawood on the 70 mm in Nikhil Advani's D-Day.
Our feathered friend informs us that citing legal and underworld backlash, Advani has decided to give Rishi's character a fictional name and his character won't be called Dawood in the film. Remember, Sanjay Gupta also had to reshoot and redub certain portions of his forthcoming gangster drama Shootout At Wadala with new names for his characters? Like debutant director Karan Malhotra who chased Chintu aka Rishi for almost six months to play his first out-and-out negative character Rauf Lala in Agneepath, it apparently took Nikhil almost the same time to convince the veteran actor, even though they have worked together earlier in Patiala House.
Although there is not much known about the story, we hear that the film deals with four Indian agents who set out to bring Dawood back to India from Karachi. Irrfan Khan and Arjun Rampal will essay two of the four agents. Seeing Rishi Kapoor's ruthless and impressive Rauf Lala act in Agneepath, we are sure the 61-year-old actor will certainly walk away with all the accolades with this negative character too. What say BollywoodLifers?