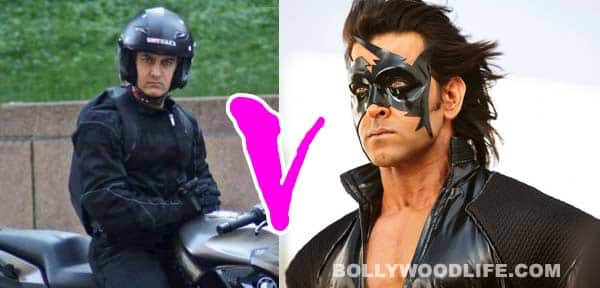 Aamir has planned a star-studded Dhoom:3 outing in the release week of Hrithik Roshan's Krrish 3
When one will talk about the biggest hit of 2013, the choice will really be between the two franchises — Hrithik Roshan's Krrish 3 (which has a huge following among kids) and Aamir Khan's Dhoom:3 (most awaited by youth audience). The odd thing is that they are pitted against each other even though they are not releasing on the same day, week or even month!
K3 releases on Diwali and D3 in the Christmas week. So there is no conflict or competition here, unless you consider that Khan is the hero of D3 and Roshan was the leading man of Dhoom:2.
But things are about to get uncomfortable now. Krrish 3 releases on November 1, and Aamir has decided to hold a grand event of his film along with the rest of the cast and crew two days before Krrish 3 releases. When all eyeballs really need to be on the Roshan film, Dhoom:3 is set to steal the spotlight. The timing of the Dhoom:3 event is raising a few eyebrows.
Especially in the light of past history. Aamir is known to steal the thunder from actors in their release week. He had walked into the Race (2008) premiere with his shaved-head — Ghajini look — and overshadowed the film whose premiere he attended. When Shahrukh Khan's Rab Ne Bana Di Jodi hit the theatres, hundreds of ushers entered the halls sporting Aamir's bald look, thereby making it all about his film. It was the most-talked about gimmick/strategy. Aamir is set to do it all over again. And this time it is Roshan Jr who stands to lose.
An industry insider adds, "The Roshans have no clue about what's going to happen on October 30. It was Aamir's idea to show the new theatrical trailer of Dhoom 3 on this day. He persuaded Aditya Chopra to have the event with all the stars including Katrina Kaif, Abhishek Bachchan and Uday Chopra. The big launch is on Wednesday while Krrish 3 releases on Friday. Katrina who is shooting abroad and Abhishek who is shooting in Dubai will be flying down to attend it. Aamir also plans to invite some of his close industry friends for the event. Rest assured that every channel in the country will be flashing this star-studded event and it will be the event of the week."
Text: DNA | Imaging: Neeraj Kathale
ALSO READ:
A unique strategy to promote Aamir Khan-Katrina Kaif starrer Dhoom:3!