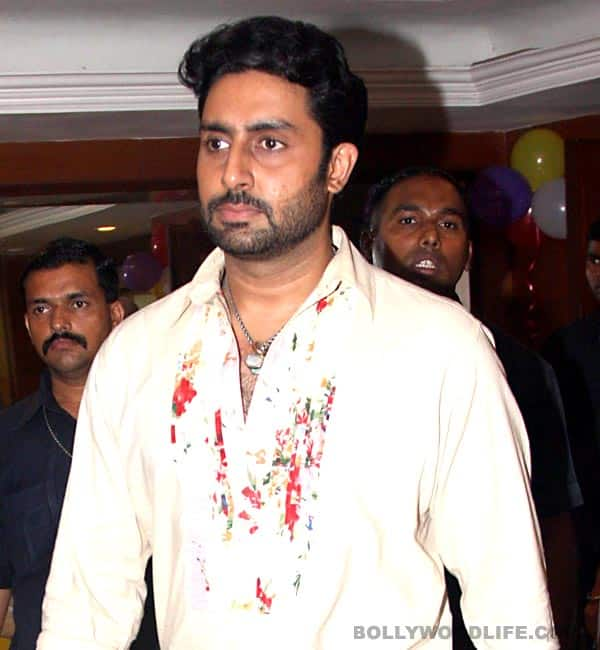 It's hard to even imagine Jr B with a ripped torso, leave alone a flat tummy, but he is trying hard to get rid of the extra flab that he seems to have accumulated – and we saw lots of that in his newest film, Bol Bachchan!
Abhishek Bachchan seems to share Vidya Balan's attitude towards his physique. He tends to have a rather laissez faire attitude towards getting into shape, even though we have heard stories about wifey Aishwarya Rai Bachchan doing all she can to make sure her man is healthy and fit. These days when every leading man worth his Rs 100 crore film is going all out to get the bod that will make girls go weak in the knees, Abhishek is happy the way he is. In the last two Dhoom films, where he was seen doing heavy duty action sequences, we didn't see a trace of muscle on his fully clad self as he did his cop act as Jai Dixit. His co-stars, on the other hand, were the heavily beefed up on-screen baddies John Abraham and Hrithik Roshan, and the man-of-all-gags, Uday Chopra. And the flab he reportedly put on for Guru is still not totally gone, not when he stands sideways and doesn't bother to suck the gut in, we have noticed.
This time around Beta B is taking on Aamir Khan, who has already hit the gym with a vengeance, we hear, developing the lean-mean physique of a gymnast. When the Players actor was asked about shaping up for Dhoom:3, Abhi said, "I am currently concentrating entirely on Dhoom:3. There's some extensive physical training that's required and by that I don't mean ripped muscles. But being in tip-top condition physically as action films are physically demanding and one's body needs to be conditioned for that."
Sigh…we don't know what motivation AB Jr would need to bid adieu to the flab, for the film if not for good. We understand when his better half doesn't bother to tone up post pregnancy, but being Daddy B is no excuse for staying away from the gym, is it?
ALSO READ: Aamir Khan sets record with 'Talaash' fee