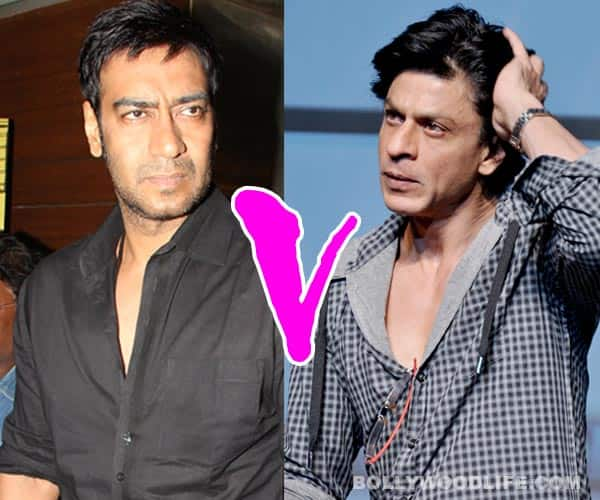 In a bid to avoid a clash with Shahrukh Khan's Jab Tak Hai Jaan, the Singham star might reconsider releasing his latest film on Diwali and pull it forward instead. This is a BollywoodLife exclusive

It is going to be a war at the box office this Diwali. Shahrukh Khan's Jab Tak Hai Jaan will be crossing swords with Ajay Devgn's Son Of Sardaar. There has been enough buzz about one of the two films rescheduling its release date. Many conspiracy theories are being thrown around, but most of the noise has been created by the media. Trade pundits are burning the midnight oil trying to figure out if JTHJ and SOS can release simultaneously and yet manage to make their individual Rs 100-crore bounties at the BO.
Buzz was that Devgn has pumped in additional moolah to counter the Chopras. Now we hear that the Singham star is being convinced by his well-wishers to not release his film with SRK's. We thought that the odds were stacked against King Khan, because brainless entertainers work much better than romantic films during the festive season. But that doesn't seem to be the case this time, as SOS might be released a week before JTHJ, just so that the BO clash is avoided.
On condition of anonymity, our feathered friend told us that "The Chopras are the bullies of Bollywood, and there is no way they will allow any film competing with their own to survive." Reportedly, there have been instances when YRF has bought out most of the shows at multiplexes and single screen theatres. Do we believe this? We are not sure unless YRF confirms the story, of course, but it sounds like a murky tale that could be spread by unfriendly rivals of vested interests.
This time around the stakes are higher and the egos of the people involved are humongous. Our source tells us that Devgn is now waiting for the music release and trailer launch of SRK's film and, depending on how good both turn out, he will take the final call on the release date of Son of Sardaar.
Watch this space for more on this war!
ALSO READ: Shahrukh Khan's Jab Tak Hai Jaan is a hit already – on Twitter!