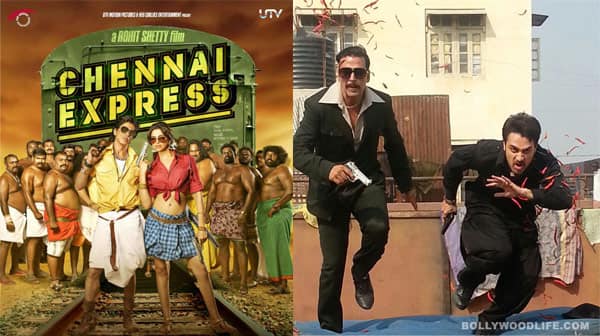 It's not a Salman Khan release; instead Shahrukh Khan's Chennai Express and Akshay Kumar's Once Upon A Time in Mumbaai Again will come head-to-head at the box office this Eid. Tarot takes a sneak peek into how the two films will fare and whether they will receive critical appreciation
Akshay Kumar
Born on September 9, Akshay Kumar's personal year comes up to no. 6 – the planet of Venus. A planet that represents beauty, appreciation and creative successes. Additionally being a Virgo, the sensitivity of this sign towards acting is quite evident. This all seems to be a great formula to a successful 2013, but do the cards back the accepted generalisation of this sun sign?
Once Upon A Time in Mumbaai Again is Akshay's Eid release – a lucrative time to see box office success. With the Nine and Queen of Pentacles drawn there will be undoubtedly immense successes seen by this film. It will have a great opening and will retain that form of strength in the weeks to come. The promotion will, like the Ace of Pentacles be different and risky, but this will pay off quite handsomely. It will be a great milestone in Akshay's career and his ability to draw in the crowds will be quite evident.
Critical reception is being represented by the Judgement and Two of Wands cards, which demonstrate the importance of good content and a well made film. It will generally be appreciated in all quarters.
Shahrukh Khan
The Scorpion Shahrukh Khan is ruled by no. 1 this year – the number of the Sun. There will be nothing stopping him shine except his health intervening and slowing him down more than he would be comfortable with. But in terms of his career, he will grow in his body of work and will be loved more than ever.
Chennai Express, directed by Rohit Shetty, will be energetic and fun. It will certainly receive a huge opening at the box office. The Ten of Pentacles is a great card representing lots of money and quick successes. It's the sustainability that might be a problem. This can easily be rectified through better publicity as currently the Seven of Swords shows weaknesses in planning. They will need to be very smart in order to compete stronger.
Response from overseas markets will be very positive, as well as receiving a strong critical reception from them too. It's a win-win situation for Chennai Express as the film's content will deliver well too.
Who wins?
There will be stiff competition between both, therefore it is certainly unfair to judge who will do better, but currently Once Upon A Time in Mumbaai Again is edging slightly ahead of Chennai Express in terms of box office collections. Both films will be big hits, so there's lots to look forward to this Eid.