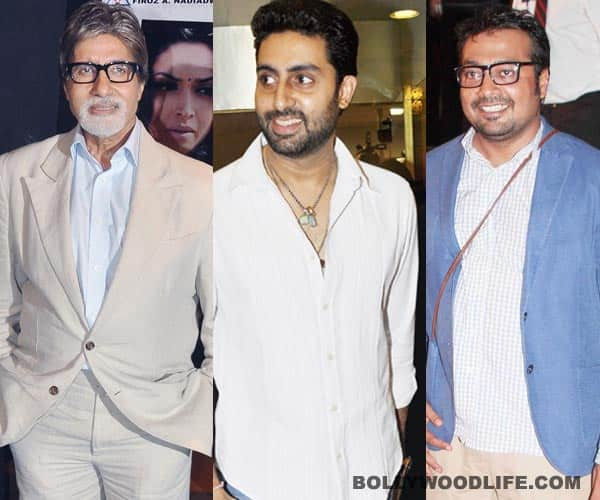 Putting the unpleasant past behind them, the father-son duo might work with the Dev.D director soon
Anurag Kashyap claims to be one of the biggest fans of Amitabh Bachchan and we could see a hint of that in his coal mafia gangster flick Gangs Of Wasseypur. But things weren't kosher between them for a very long time. All that has now become a thing of the past as they recently met at the special screening of director Bedabrata Pain's debut film, Chittagong. They were seen having a pleasant conversation and generally bonding with each other. As much as it surprised those who knew about their differences, it was certainly good to see them together. Things had started improving between the two after Anurag went and met Amitabh at his home and cleared the air.
The obvious question about them coming together for a film cropped up in our heads and little did we know that we were right. News is that Kashyap is in the process of writing a film in which he wants to cast not only Amitabh, but Abhishek Bachchan as well. Bachchan Sr didn't deny this development, but passed on the question to the 'hatke' director. Kashyap wasn't forthcoming about this, but we did hear there is certainly something cooking in his fertile head. Buzz is that Big B and Jr B will not be playing the conventional father-son roles, as Anurag has something more challenging in mind for them.
We are already excited about this project and hope it takes off soon! Dear Bollywoodlifer, are you eager to see them collaborate?
ALSO READ: Why is there a smear campaign against Anurag Kashyap?