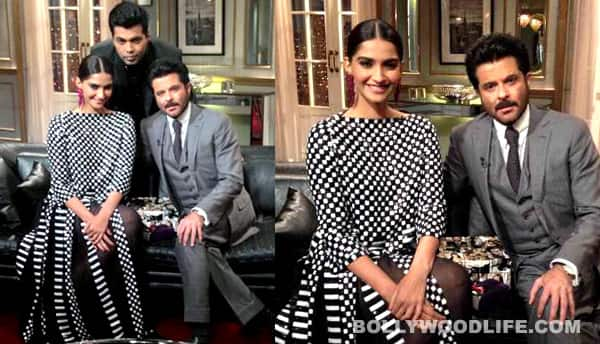 The father-daughter duo will make a joint appearance on the chit-chat show
From Salman Khan-Salim Khan to Deepika Padukone-Priyanka Chopra to Ranbir Kapoor-Kareena Kapoor Khan, we have seen many rare and unusual pairs of guests in the fourth season of Karan Johar's hit chat show – Koffee with Karan (KWK). And now, with the father-daughter duo of Anil Kapoor and Sonam Kapoor appearing on the controversial black couch, we are sure it's gonna be one hell of an interview. Yes, you heard us right!
Fans have been wanting to see the papa-beti jodi together on the screen for quite sometime now, and their wish will finally come true. Both Sonam and Anil have separately been on KWK in the previous seasons and as you know, they created quite a stir when they passed some not so good remarks about Ranbir Kapoor and Abhay Deol respectively. Now that they are making a joint appearances, will they create some food for the gossip mongers this time?
Well, we will have to wait for the episode to telecast to know that. Anyway, Anil and Sonam have shot the episode yesterday (January 5). We must say, Sonam was looking graceful in her black and white checkered dress, but we felt there was some scope for improvement, given her fashionista image. Anil on the other hand was looking his usual hot and young self in a grey coloured three piece suit.
We are really looking forward to see the baap-beti jodi on KWK, are you?