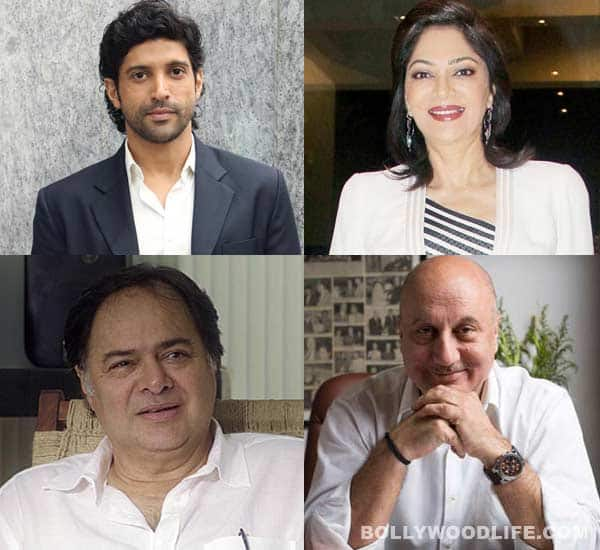 The veteran actor will also be seen hosting his debut TV production titled The Anupam Kher Show – Kucch Bhi Ho Sakta Hai
Colors announced the launch of Anupam Kher's upcoming production The Anupam Kher Show – Kucch Bhi Ho Sakta Hai which will have the reputed actor playing host as well. The show will revolve around real life stories of Bollywood bigwigs who faced defeat and rejection in life before tasting ultimate success.
The Anupam Kher Show… isn't the first of its kind. There have been several shows following a similar format but Kher's show is set apart from the rest because it primarily delves into the celebrities' struggles so as to reinstate the humanist belief about every cloud having a silver lining.
Shows in the past like the Rendezvous with Simi Garewal and Jeena Isi Ka Naam Hai by the late veteran actor Farooq Sheikh were also talk shows that revolved around unearthing biographical details about a celebrity's life; details that are unknown to the fans and could often serve to be inspiring or motivational.
Simi Garewal is remembered to interact with the most sought after Bollywood stars; asking them questions about their lives in her poised and perfect English and imploring them to "Speak". Farooq Shaikh did the same except that the mode of communication was Hindi and somehow that added more warmth to his talk show and made it more personal. More recently, director Karan Johar forayed into the area of hosting with his show Koffee with Karan but following the format of a Jay Leno Show or a David Letterman show in the West, this show was more light-hearted and less intense, thus intending to purely entertain and dole out fun to its viewers. Farhan Akhtar's short-lived yet exciting telly experience, Oye Its Friday! also had celebrities having a gala time on camera.
Now Anupam Kher is ready to join the bandwagon with …Kuchh Bhi Ho Sakta Hai although we sense that this one wouldn't be a run-of-the-mill talk show as the brief promises that the show will make the audiences laugh, cry and inspire at the same time. Do you think that Kher will prove to be a better host than the rest in …Kuchh Bhi Ho Sakta Hai? Tell us who you think makes the best celebrity host on television?