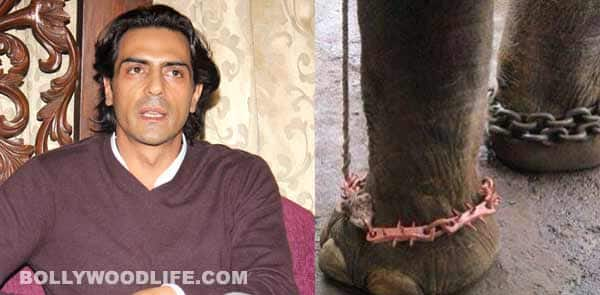 When celebs support a cause, it always gets a positive response. But will our hunkalicious Arjun be able to free Sunder?
A little birdie tells us that Arjun Rampal along with PETA representatives, met Maharashtra State Forest Minister Dr. Patangrao Kadam to deliver a letter. The letter was a request to take immediate action and free Sunder, the elephant who has been chained and abused at a temple. The letter urges the minister to relocate the 14-year-old Sunder to a sanctuary. We hear that both, the Forest Minister and the High Court of Bombay have ordered Sunder's transfer. However, Sunder continues to be chained by his abusers at Jyotiba Temple, Kolhapur. Arjun even went ahead and made an offer to the temple that he will donate a life-size statue of an elephant if they let off Sunder to live a free-life at a sanctuary.
Rampal wrote, "I am deeply saddened to learn that, despite your and the High Court of Bombay's orders, the young elephant named Sunder has not yet been moved to a sanctuary where he can live his life free from chains and beatings that he continues to suffer."
The actor took to Twitter and posted a picture of Sunder's condition and tweeted, "Chained with spikes Sunder and considering we worship Lord Ganesha, this is how we treat elephants." He also tweeted, "Sunder suffers to extreme cruelty, is on the verge of madness, as the judicial system sleeps peacefully."
Apart from Arjun Rampal, Amitabh Bachchan, Madhuri Dixit Nene, R Madhavan, Raveena Tandon and many other celebs took to Twitter to support his case to #FreeSunder. We hope justice prevails and our judicial system doesn't let us down, yet again!