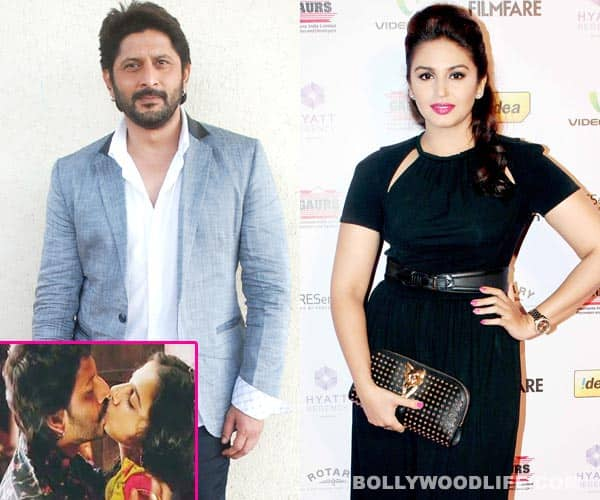 Apparently he will, but it won't be anything like the full-blown smooch he shared with Vidya Balan in Ishqiya
A while ago, we had quizzed Arshad Warsi on sharing a hot kiss with Vidya Balan in Ishqiya and facing the wrath of pretty wife Maria Goretti thereafter. The incident had led to rumours about Warsi never locking lips with ladeej on screen ever again. To that, Arshad had said, "There is a kiss scene in Dedh Ishqiya and Maria has allowed me to do it (grins). That does not mean she approves of it, it just means she understands how much I love my job (laughs)."
Hmmm, and we instantly conjured up an image of Arshad and Huma Qureshi passionately kissing away to glory. But, errm, that won't be the case, we are told. Our feathered friend chirped, "Huma plays Arshad's love interest. The intimate scene, which has not been shot as yet, is significant but less steamy than the one with Vidya. There will not be a full-fledged kissing, but just a peck." Uh-ho!
So guess while on one hand we smile about Kareena Kapoor agreeing to get intimate – maybe even kiss onscreen in Satyagraha, on the other hand we have one passionate kisser bidding adieu to the smooches. Sigh. But that's how it will be, peeps.
Tell us: Did the news about Arshad Warsi-Huma Qureshi sharing a mere peck disappoint u?