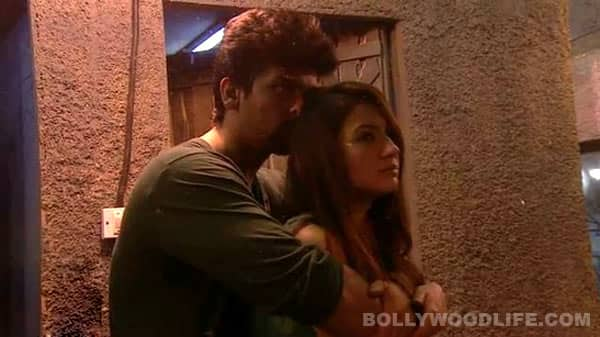 The two lovebirds are getting too steamy for the glass walled ghar. Read on to know more…
The two loverbirds of the Bigg Boss house Kushal Tandon and Gauhar Khan are having a gala time with each other. The two are closely knit to each other and are often seen holding each others hands and hugging each other. But as they say what's love that has no spark. The love buddies had their first disagreement recently but it seems that this made their bond stronger. How, you ask?
Well, the story goes something like this. Bigg Boss recently asked Kushal to perform a secret task where he had to steal money from those residing in the heaven section. Since it was a secret task, Kushal was not supposed to discuss this with any of the housemate. However, his silence gave out everything and Gauhar persistently asked him about the task. The pin up boy of small screen then got irritated and refused to converse with Gauhar.
After a lot of ruthna manana, the two of them hugged and patched up with each other. Ohh. Talking about the hug, we must say that the two of them went a little overboard with their hugging this time. The way Kushal grabbed and started feeling Guahar, almost reminded us of a scene from an adult movie.
The steaminess between Gauhar and Kushal now makes us wonder if Bigg Boss 7 be rescheduled to the 11 pm slot? Host Salman Khan during the press launch of the show had shown a fickle of fear about the show being moved from prime time to the 11 pm slot. We still remember how season 5 of the high voltage reality show was moved to the late night slot due to its controversially 'colourful' content affecting the TRP's of the show.
Looks like what Sallu bhai feared might just come true. Courtesy Kushal and Gauhar's PDA. What say you peeps?