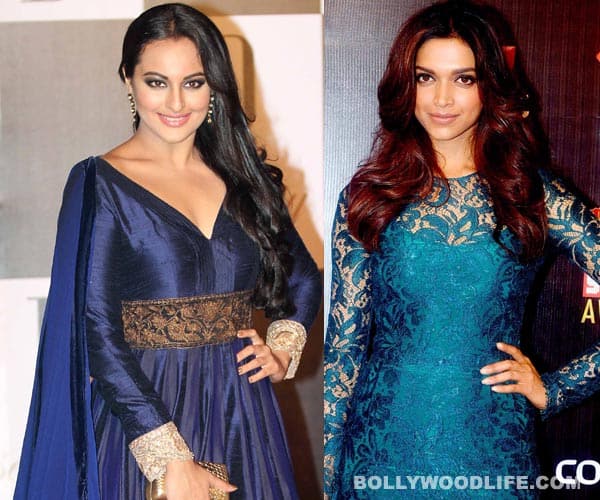 Buzz is that Sona has been ousted from the movie, and now the leggy lass Dippy is being considered for the role of the heroine…
Salman Khan's Kick has been making a loud noise about being an action movie with better stunt effects than Dhoom:3 and Krrish 3. Now which heroine would not like to be associated with such a movie, right? And so, we were assured that Sonakshi Sinha, who was chosen and signed as the lead heroine by producer Sajid Nadiadwala, was counting her lucky stars. How wrong were we!
Feathered birdies have now chirped that Sona, who had already pocketed the signing amount, demanded a pay hike after Dabangg 2 released. Ahem ahem. A lame move, we would say. And that's precisely what Nadiadwala thought, as he realised that he could take on an experienced actor – read Deepika Padukone – for an increased remuneration.
But is Dippy actually a better option than Sonakshi Sinha? Hell, yes! Firstly because DP's glam quotient easily tops that of the ghagra-choli loving girl-next-door Sonakshi. Secondly, Deepika has been around in the industry for a longer while than Sonakshi. And lastly, as Sonakshi and Salman's pairing had started looking a tad stale, Deepika's entry will be like a breath of perfumed fresh air for the movie. Agreed?
So all we can say now is that it was a good decision on the part of Sajid Nadiadwala to rope in the leggy lass. To Sonakshi we would say: be a li'l smart when it comes to moolah-talks, babe, will you?
And to you, readers: Are you excited about the Deepika Padukone-Salman Khan pairing? Tell us, now!