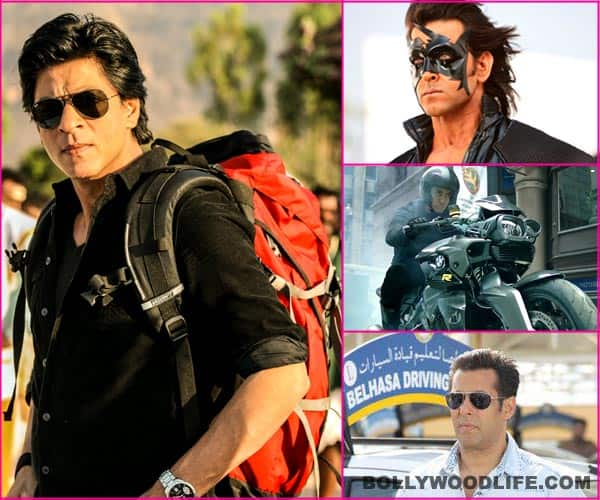 Shahrukh Khan's romcom directed by Rohit Shetty and co-starring Deepika Padukone smashed box office records and set cash registers clanging. His arch-rivals Aamir Khan, Salman Khan and Hrithik Roshan are now geared up to break the Baadshah's supremacy with their own releases. What are the five essential components that will make sure that these big budget films create hungama at the BO?
The stage is set. The battle lines are drawn. It just doesn't get bigger than this. After Chennai Express, Krrish 3, Dhoom:3 and Mental are lining up for release. Which one will get the bigger share of the money pie and the tag of 'record-holder'? Considering the plethora of big banner, big budget, big starcast films set to release in the coming months, film buffs certainly can't ask for more fun that will rock the turnstiles!
With such an impressive line-up of Hindi films – Krrish 3, Dhoom:3 and Besharam are set to release during Diwali and Christmas and Mental projected for Republic Day (January 26) 2014 – this year might just become as the most lucrative ever. But 2013 could well be the year with maximum Rs 100 crore grossers, with Rohit Shetty's Chennai Express (CE) topping the charts (Rs 216.86 crores according to trade analyst Taran Adarsh), followed by Ranbir Kapoor's Yeh Jawaani Hai Deewani, Abbas Mustan's Race 2 and Rakeysh Omprakash Mehra's Bhaag Milkha Bhaag. The King Khan has once again proved his worth at the box office with CE's humongous success, breaking the record set by Aamir's 3 Idiots. And the Perfectionist actor is all set to reclaim the title with Dhoom:3, which he is confident will overtake CE by a mile.
And how can King Khan's re-new-found friend Salman be far behind? For the last few years Sallu's films have been doing record business and setting higher monetary standards for his competitors. "I know his (SRK) film broke all my records. I'm looking forward to break all the new records, be it Aamir's Dhoom:3 or Ranbir's next film (Besharam)," he said. Considering Sallu's repertoire for the next year – Mental, Kick and Prabhu Deva's next – the superstar could break his own records than that of others!
As Taran Adarsh said, "The silver screen is all set to adorn a golden glow. Previous records will be shattered and new records will be set." We spoke to exhibitor-distributor Akshaye Rathi to check which of these films – Krrish 3, Dhoom:3, Mental and Besharam – is most likely to beat Chennai Express at the BO…
Buzz, publicity and marketing:
While Krrish 3 & Dhoom:3 have generated tremendous buzz purely on the merit of their first teasers and are sure to open to phenomenal numbers, it's still too early to say anything about Kick, since no promotional material / promo is out yet. However, it is undoubtedly one of the most anticipated films of 2014 and it will be spilling out of people's ears when it is about to release. As for Besharam, the coming together of the star of Yeh Jawani Hai Deewani and the director of Dabangg Abhinav Kashyap in itself is a big deal and is bound to get a huge chunk of moviegoers excited. Sadly though, the promotions (at least so far) have lacked the teeth and edge that a film with stakes as big ought to have. After the benchmark that SRK has set with the promotions of Chennai Express, these big budget films need to at least match it, if not surpass it to stand out.
Satellite rights:
The satellite rights of each one of these films will sell for great numbers because of the stars these films feature. Besides, all these films belong to satellite friendly genres, so there's no reason why they won't rake in big money for their TV rights.
Actors' popularity (Salman, Aamir, Shahrukh and Ranbir Kapoor) – domestic and overseas:
While Salman Khan is the king of the masses, SRK's popularity is beyond any other actor's in the overseas markets. Salman's core audience floods the single screen cinemas across India, like Rajinikanth's fans do down South when his films release, while SRK stands at positions 1 to 5 in the overseas markets and then the others come by. Ranbir Kapoor has struck a good balance between the two with Yeh Jawani Hai Deewani and enjoys a good following in the domestic and overseas markets – the prince of both, just a notch below the respective kings!
Aamir Khan is a hugely popular star, but the business of his films depends on the appeal of his films more than his core fan following. So while with a 3 Idiots he broke through the Rs 200 crores mark, a Talaash or a Dhobi Ghat didn't come anywhere close. Dhoom:3 should showcase his star power in a huge way…
Number of screens:
It's still too early to judge the number of screens that these films will release in, but with the benchmark that Chennai Express has set, each one should aspire to go beyond it to ensure the huge openings that it deserves.
Ticket price:
I don't believe that hiking ticket prices is the best solution to multiplying business. What needs to be seen is the fact that 3 Idiots had among the highest footfalls for films in recent times, but was watched by only about 2 percent of India's population! The idea should be to find ways to increase the count of people who come to watch films at the cinemas, rather than charge the ones who come, a higher amount.